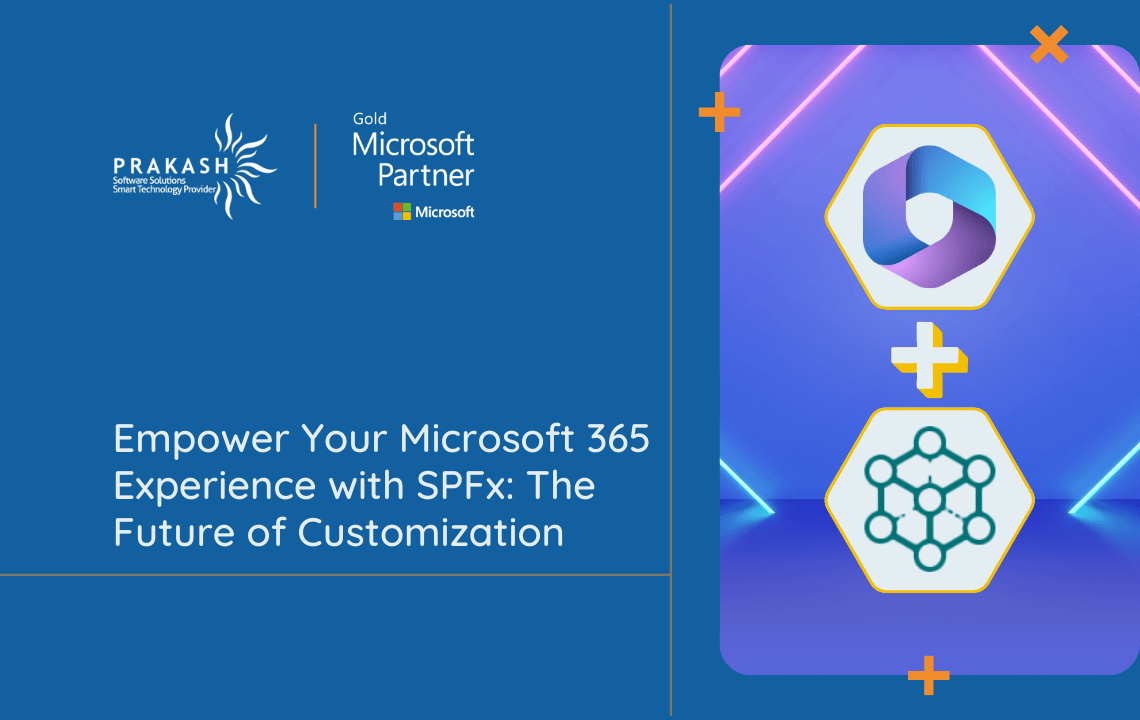 Empower Microsoft 365 Experience with SharePoint Framework (SPFx): The Future of Customization
Are you looking to take control of your collaboration platform like never before?
Introducing SPFx – the game-changing framework that transforms your Microsoft 365 experience! Let's get started.
Also, I would address in this blog, what you should look for if you are searching for an ideal SharePoint Development company in USA.
The SharePoint Framework (SPFx) is a comprehensive, client-side development framework provided by Microsoft to extend and customize SharePoint and Microsoft 365 experiences.
As organizations increasingly adopt Microsoft 365 as their collaboration and productivity platform because the demand for tailored solutions to meet specific business needs has grown.
SharePoint Framework (SPFx) addresses this demand by offering developers a modern, flexible, and efficient approach to building customizations and web parts for SharePoint.
Understanding SharePoint Framework (SPFx)
The SharePoint Framework was introduced in 2016 as a successor to the traditional farm solutions and sandboxed solutions for SharePoint customizations.
It allows developers to create client-side web parts, extensions, and applications using popular technologies like TypeScript, React, and Angular.
SPFx empowers developers to build responsive, user-friendly, and performance-optimized solutions that seamlessly integrate into the SharePoint user interface.
SharePoint SPFx offers a straightforward method to leverage data using open-source tools, simplifying the application of modifications and customizations. With the freedom to choose any JavaScript framework for SPFx solutions, developers are not confined to Windows and Visual Studio for constructing SharePoint solutions.
Thanks to its use of a well-known web development stack, SPFx solutions can be crafted on any platform, including OS X and Linux, and with any preferred code editor.
Embracing a non-proprietary approach, this Microsoft-powered SharePoint development model utilizes tools and techniques widely employed by developers across all platforms and stacks.
Moreover, the Product Group is committed to building solutions exclusively on top of the framework, utilizing publicly available APIs to support developers.
As the latest development model for SharePoint, SharePoint Framework (SPFx) empowers developers to create custom functionality with responsive design compatibility for both SharePoint server and SharePoint Online sites. Embracing SPFx yields numerous benefits for businesses seeking to enhance their SharePoint experiences.
A significant advantage of SPFx is that developers can work within their preferred development environment, regardless of the JavaScript platform they choose to utilize. This flexibility provides greater convenience and efficiency in the development process.
Key Features and Benefits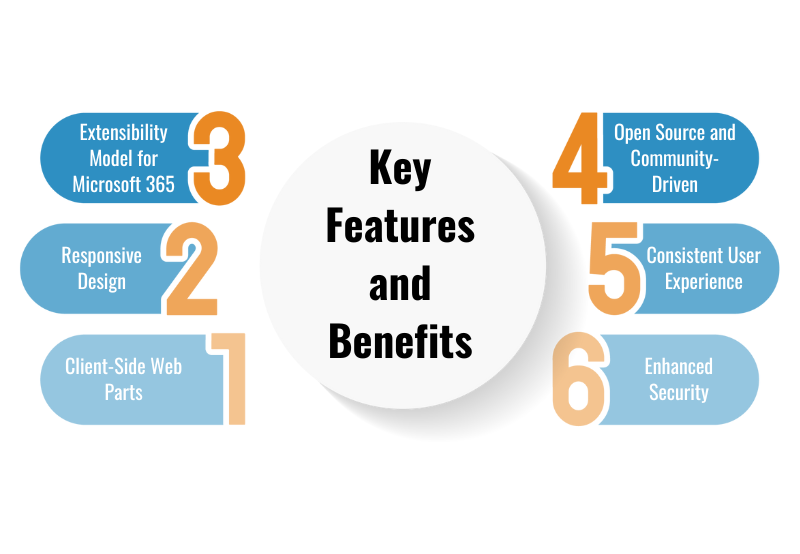 Client-Side Web Parts
SPFx enables developers to create web parts that run on the client-side, improving performance and reducing server load. These web parts can be added to both modern and classic SharePoint pages, allowing organizations to leverage their existing infrastructure while embracing modern experiences.
Responsive Design
SPFx promotes responsive web design, ensuring that customizations adapt to various screen sizes and devices. This is essential in today's mobile-centric work environments, providing a consistent user experience across different platforms.
Extensibility Model for Microsoft 365
SPFx is not limited to SharePoint alone. It serves as a versatile extensibility model that can be used across the broader Microsoft 365 ecosystem, including Microsoft Teams, Microsoft Outlook, and Microsoft Planner. This cross-platform compatibility allows developers to build solutions that enhance user productivity and streamline workflows across multiple Microsoft 365 applications.
Open Source and Community-Driven
SPFx is an open-source project with an active and vibrant community. Developers can leverage the community's contributions, share knowledge, and access valuable resources, plugins, and extensions.
Consistent User Experience
Customizations built using SPFx blend seamlessly with the SharePoint user interface, providing a consistent and intuitive experience for end-users. This promotes user adoption and engagement.
Enhanced Security
Since SPFx runs on the client-side, it reduces the security risks associated with traditional server-side solutions. Customizations are isolated within individual web parts, reducing the scope of potential vulnerabilities.
If you are looking for SharePoint Development Company in USA, there are several SharePoint development companies that specialize in leveraging SPFx to deliver tailored Microsoft 365 solutions to businesses of all sizes.
Choosing the best SharePoint Development Company in USA will help you reap better ROI. These companies employ skilled SharePoint developers with expertise in the latest technologies and frameworks, enabling them to create efficient and high-quality customizations.
The ideal SharePoint Development Company in USA should have:
Proficiency in SPFx Development
Comprehensive Knowledge of Microsoft 365
User-Centric Approach
Quality Assurance and Support
Security and Compliance Expertise
Final Thoughts….
The SharePoint Framework (SPFx) serves as a powerful extensibility model for Microsoft 365, enabling developers to build modern, responsive, and feature-rich customizations for SharePoint and other Microsoft 365 applications.
As businesses strive to enhance their productivity and collaboration, the expertise of a skilled SharePoint development company in USA becomes invaluable in delivering tailored solutions that meet specific organizational needs and drive success in the Microsoft 365 environment.
Maximize your ROI and boost user engagement by harnessing the power of SPFx and the proficiency of PSSPL, your SharePoint development company in USA. Get in touch with us today and embark on a journey towards a more efficient, collaborative, and future-ready Microsoft 365 environment!
Let's transform your vision into reality with cutting-edge SharePoint solutions that redefine the way you work and collaborate. Reach out now and discover the endless possibilities with SPFx!
Happy Reading!