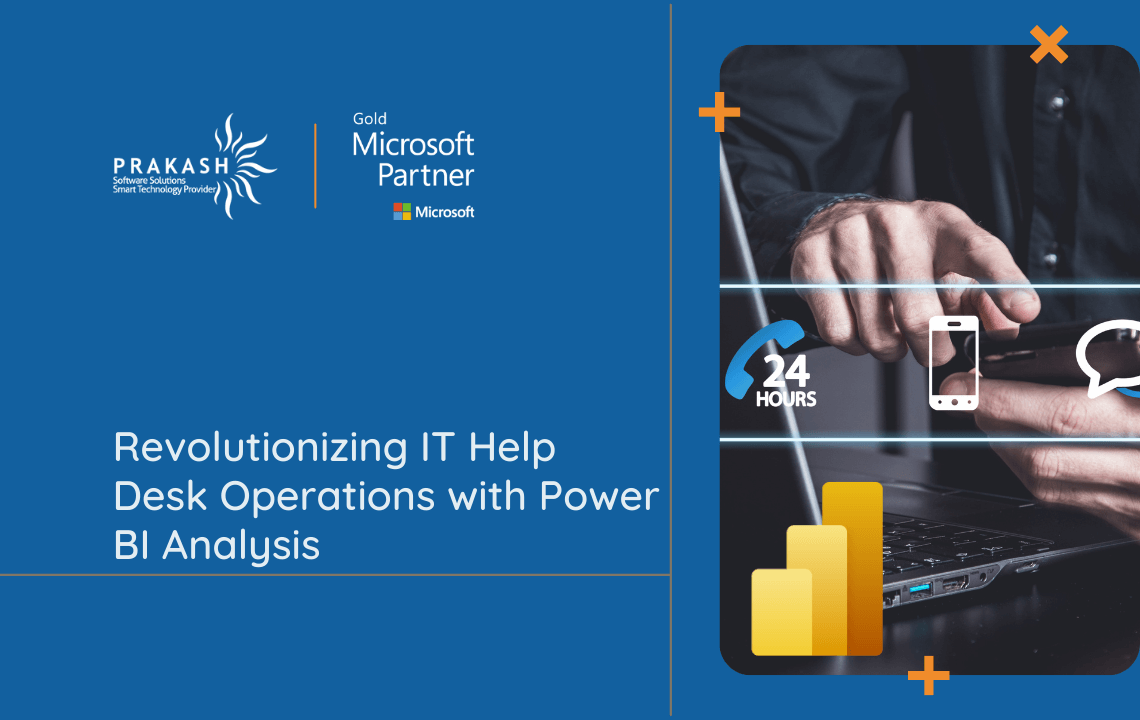 Revolutionizing IT Help Desk Operations with Power BI Analysis
Are you seeking help to transform your IT help desk operations and take your organization's efficiency to new heights?
Then you are at the right place. In this blog, we will delve into the exciting world of Power BI and explore how its advanced analytics and visualization features, coupled with top-notch Power BI consulting services, can empower your IT help desk team to work smarter, not harder. From analyzing ticket trends to identifying bottlenecks, we'll uncover the endless possibilities that await your organization in delivering exceptional IT support services.
In today's fast-paced technological landscape, businesses are increasingly relying on sophisticated tools to streamline their processes, and one such game-changer is Power BI Analysis. By harnessing the capabilities of Power BI, your IT help desk can revolutionize the way it operates, making data-driven decisions, optimizing ticket management, and providing proactive support like never before.
So, hop along and get ready to embark on a journey of transformation as we uncover the true potential of Revolutionizing IT Help Desk Operations with Power BI Analysis and exceptional MS Power BI consulting services in the USA.
Let's dive in!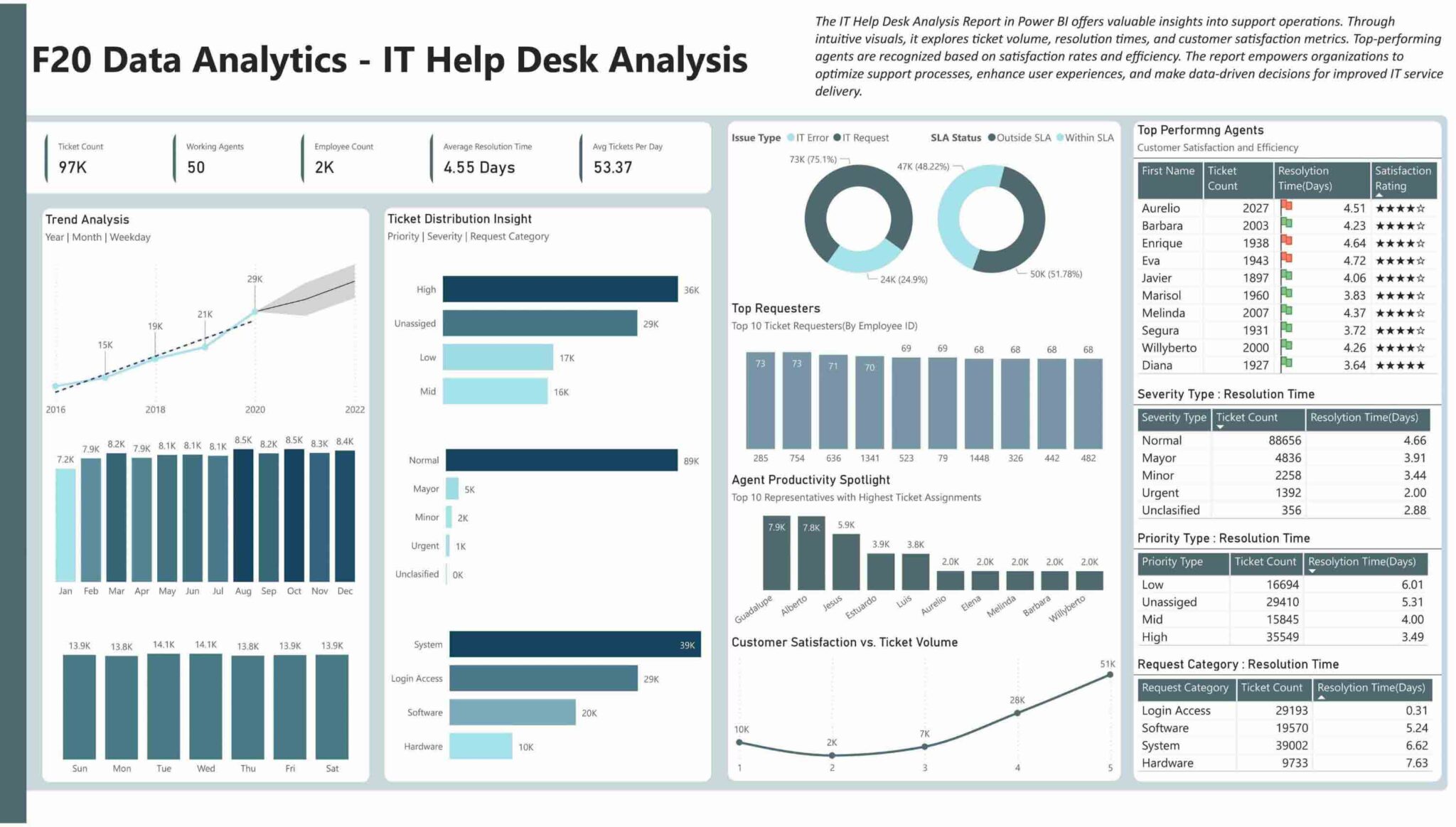 Trend Analysis: Unlocking Insights from Historical Data
Trend analysis empowers organizations to identify patterns and fluctuations in ticket volumes over time. With this knowledge, businesses can proactively allocate resources during high-demand periods, reducing response times and streamlining ticket resolutions.
Ticket Distribution Analysis: Optimizing Resource Allocation
Understanding the distribution of ticket categories helps IT support teams prioritize tasks and allocate resources efficiently. With Power BI visuals, organizations can gain valuable insights into the most common issues users face, ensuring timely resolutions.
Issue Type Analysis: Targeted Solutions for Specific Challenges
Categorizing tickets based on issue types enables organizations to develop targeted solutions for recurring challenges. By addressing root causes, support teams can minimize ticket volumes and enhance customer experiences.
SLA Status: Meeting Service Level Agreements with Precision
Analyzing SLA status ensures adherence to service level agreements. The IT Help Desk Analysis Report tracks SLA compliance, empowering organizations to consistently identify areas that require improvement and deliver exceptional service.
Top Requester Analysis: Meeting VIP Users' Expectations
Identifying top requesters helps prioritize support for high-value users or VIP customers. The report enables organizations to offer personalized and efficient assistance, strengthening relationships and loyalty.
Agent Productivity Spotlight: Recognizing Efforts and Identifying Best Practices
Agent productivity analysis highlights top-performing support agents, recognizing their efforts and efficiency. This fosters healthy competition among team members and promotes a culture of excellence in customer support.
Customer Satisfaction vs. Ticket Volume: Striking the Right Balance
The report's insights into customer satisfaction metrics versus ticket volume allow organizations to gauge the quality of support provided during peak times. Businesses can build trust and loyalty by ensuring high customer satisfaction even under heavy workloads.
Top Performing Agents: Celebrating Excellence
Identifying top-performing agents based on various metrics enables organizations to celebrate excellence and acknowledge exemplary support. Recognizing their contributions boosts team morale and motivates others to excel.
Severity Type Analysis: Addressing Critical Issues with Urgency
Categorizing tickets by severity type allows organizations to prioritize critical issues, ensuring swift resolutions and minimizing disruptions to business operations.
Conclusion
The IT Help Desk Analysis Report in Power BI is a powerful tool that empowers organizations to harness the full potential of their support operations. With trend analysis, ticket distribution insights, issue type breakdown, SLA status monitoring, and other metrics, businesses can make data-driven decisions to optimize support processes, enhance user experiences, and deliver top-notch IT services.
As businesses continue to navigate the ever-evolving technological landscape, embracing the potential of Power BI and partnering with top-tier MS Power BI consulting services in the USA has become a strategic imperative. This winning combination enables IT help desks to not only keep up with the demands of modern support but also stay one step ahead by proactively addressing potential issues.
In conclusion, by revolutionizing IT help desk operations with Power BI Analysis and tapping into specialized Power BI consulting services, organizations can embark on a journey of enhanced productivity, improved customer satisfaction, and elevated IT support excellence. Embrace the power of Power BI today, and pave the way for a brighter, data-driven future for your IT help desk.
About the Author
Sarvagya Kadam is a dedicated Power BI Developer working with Prakash Software Solutions Pvt Ltd. With a passion for leveraging data to drive growth and efficiency, Sarvagya is committed to helping organizations achieve their goals through innovative IT solutions.