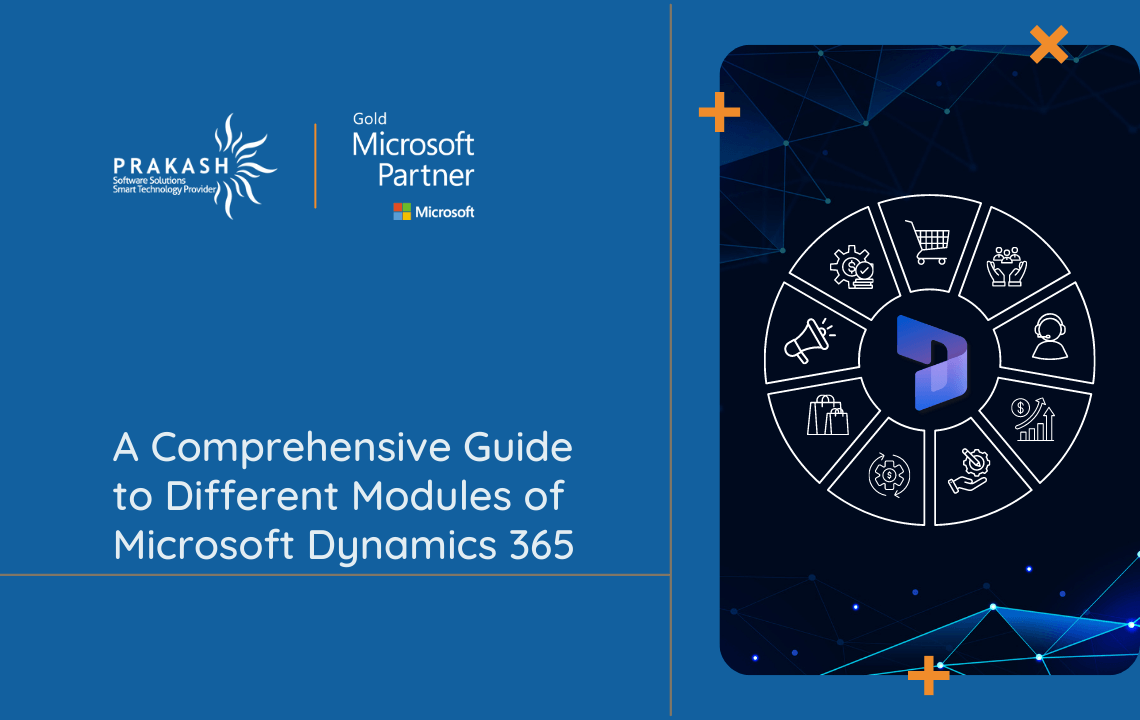 A Comprehensive Guide to Different Modules of Microsoft Dynamics 365
In the rapidly evolving business landscape, organizations require comprehensive solutions that can streamline their operations, enhance customer experiences, and drive growth.
Microsoft Dynamics 365 stands as a powerful cloud-based platform, encompassing both enterprise resource planning (ERP) and customer relationship management (CRM) capabilities. This integrated suite of modules is designed to cater to diverse business needs, offering a wealth of interconnected functionalities. The platform's strength lies in granting companies the flexibility to choose and personalize modules to align with their specific requirements.
In this blog post, our primary goal is to guide you through an exploration of the most sought-after modules within Dynamics 365, shedding light on their key functionalities. This guide will also help you in making informed decisions about the modules that best suit your needs.
So let's get started.
Types of Modules in Dynamics 365:
Finance and Operations
Retail
Marketing
Human Resource
Commerce
Customer Service
Sales
Field Service
Project Service Automation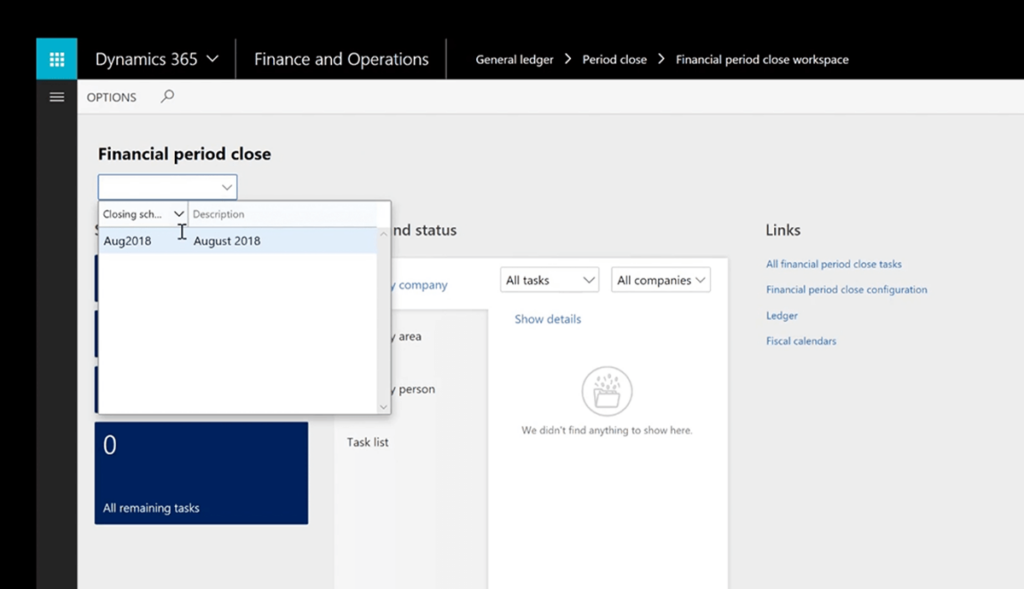 Formerly known as Dynamics 365 for Finance and Operations, this module combines ERP capabilities to handle financial management, supply chain, and manufacturing processes. Its features encompass:
Financial Management: Manage financial transactions, budgets, and general ledger, ensuring compliance and financial visibility.
Supply Chain Management: Streamline supply chain processes, inventory management, and procurement to enhance operational efficiency.
Manufacturing: Plan and manage production processes, including resource planning, scheduling, and quality control.
Benefits of this module
Enhancing financial performance.
Accelerating account closures.
Generating comprehensive reports.
Increasing profitability through strategic monitoring.
Ensuring global compliance.
Dynamics 365 for Marketing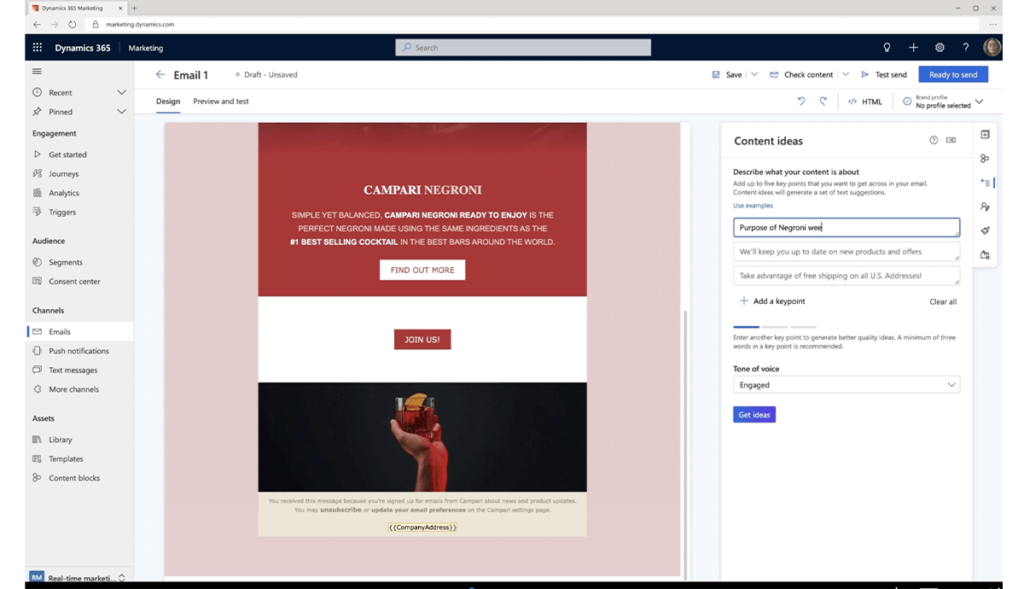 The Marketing module enables businesses to create, execute, and analyze targeted marketing campaigns to attract and engage potential customers. Its notable features include:
Email Marketing: Design and send personalized email campaigns to targeted audiences, track their performance and nurture leads through the sales funnel.
Marketing Automation: Automate repetitive marketing tasks, such as lead nurturing and follow-ups, to increase productivity and deliver consistent messaging.
Customer Journey Management: Create customer journeys to map out interactions across various touch-points, delivering personalized experiences at each stage.
Benefits of this module
Amplify lead generation through multiple channels.
Efficiently prioritize leads, monitor progress, and automate hand-off to marketing teams.
Enhance marketing ROI by utilizing analytics to track marketing performance.
Execute multi-channel campaigns.
Create personalized shopping experiences.
Identify valuable leads through LinkedIn integration.
Streamline event management for simplified organization.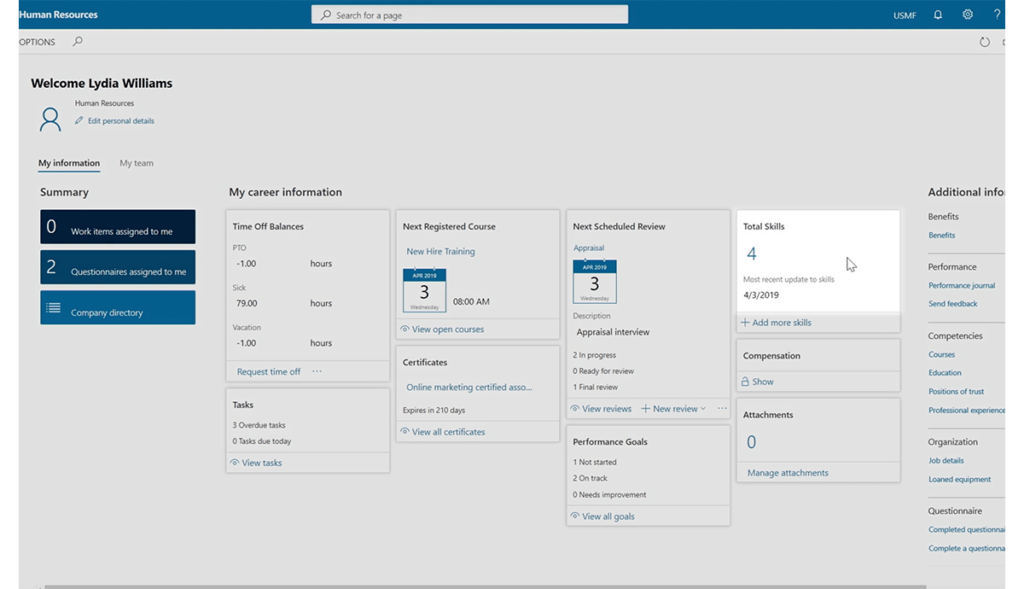 The Human Resources module focuses on workforce management, recruitment, and employee engagement. Key functionalities include:
Employee Self-Service: Allow employees to access and update their personal information, view pay stubs, and manage leave requests.
Recruitment: Streamline the hiring process by managing job postings, applicant tracking, and candidate evaluations.
Performance Management: Set performance goals, conduct employee evaluations, and provide feedback to enhance workforce productivity.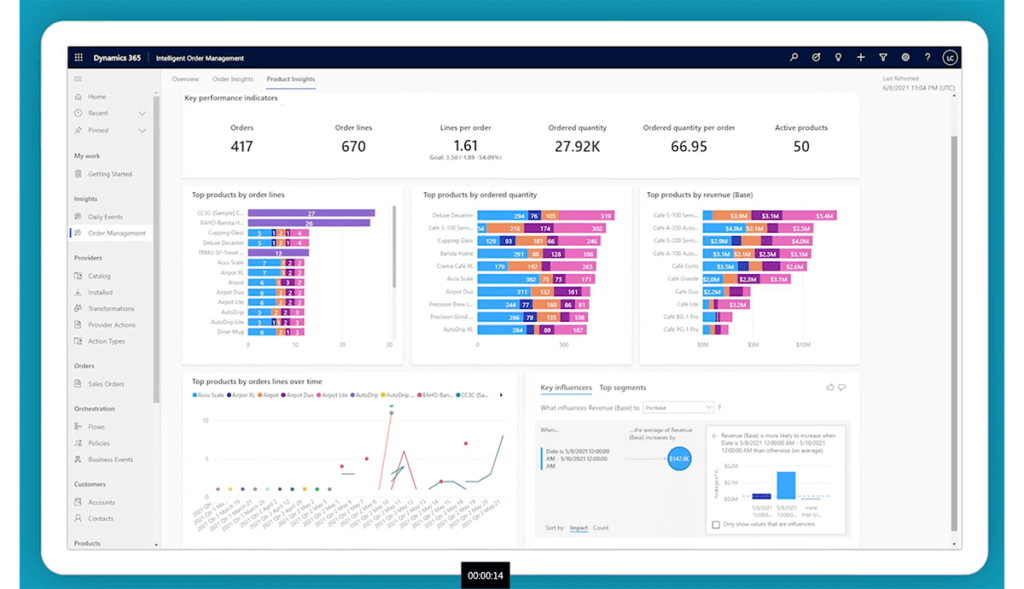 Tailored for retailers, this module is perfect for unifying in-store and back-office operations. With Dynamics 365 for Retail, you can customize in-store customer experiences and enhance employee productivity. It empowers retailers to create exceptional and innovative shopping experiences.
Benefits of this module
Efficiently oversee multiple stores and boost sales.
Rapidly respond to ever-changing customer needs.
Minimize costs, optimize inventory utilization, and streamline business operations through valuable customer insights.
Dynamics 365 for Customer Service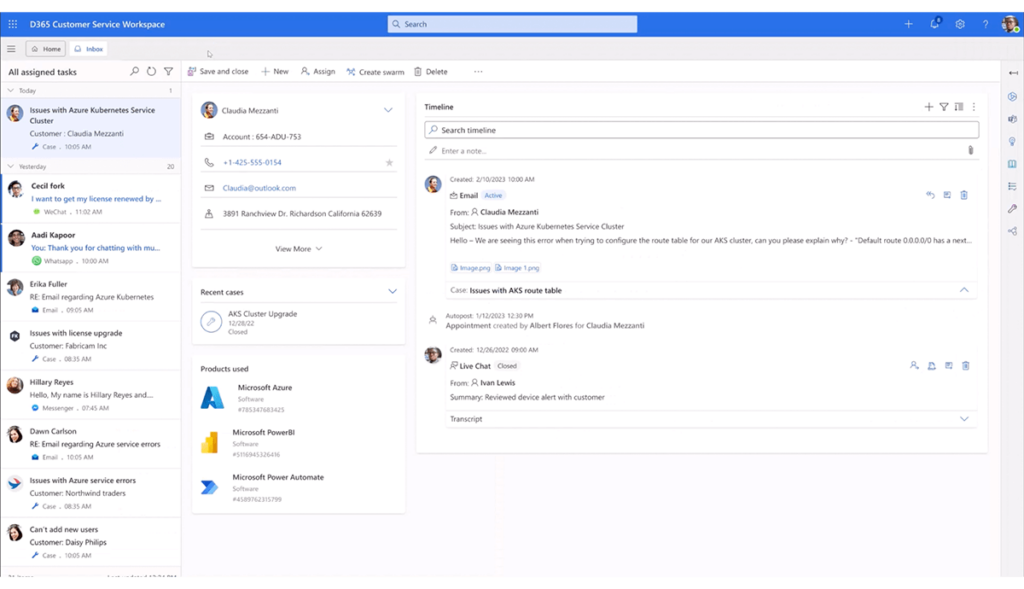 The Customer Service module focuses on providing exceptional customer support and building strong customer relationships. Its key functionalities include:
Case Management: Track and manage customer inquiries, issues, and complaints in a centralized system, ensuring efficient and timely resolution.
Knowledge Base: Create a repository of articles and resources to empower customers and support agents with quick access to relevant information.
Service Analytics: Analyze customer service data to measure agent performance, identify trends, and improve service levels.
Benefits of this module
Interact with customers through various channels and devices effectively.
Simplify agent-customer interactions to meet and exceed growing customer demands.
Enable agents to make informed decisions effortlessly with the support of intelligent workflows.
Constantly enhance service quality and efficiency while leveraging data and intelligence.
Foster innovation with a customizable application that seamlessly integrates with existing company tools and services.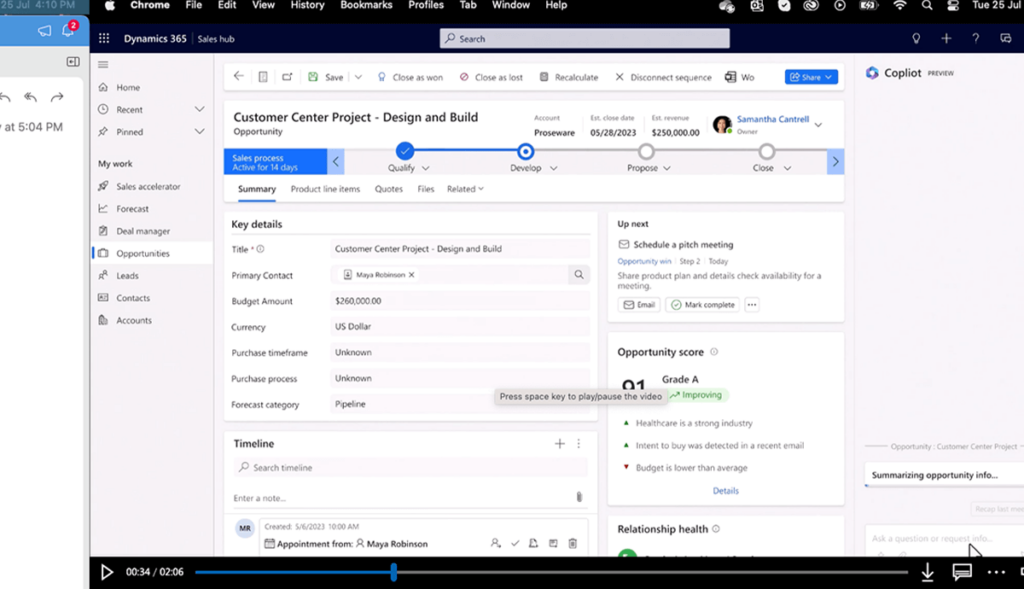 The Sales module in Microsoft Dynamics 365 empowers sales teams to efficiently manage their sales pipeline, optimize sales processes, and foster strong customer relationships. Key features of this module include:
Lead and Opportunity Management: Capture and track leads, convert them into opportunities, and manage the entire sales cycle from prospect to closure.
Sales Analytics: Utilize built-in analytics and dashboards to gain insights into sales performance, track key metrics, and identify areas for improvement.
Quote and Order Management: Create accurate quotes and manage orders seamlessly to improve efficiency in sales transactions.
Dynamics 365 for Field Service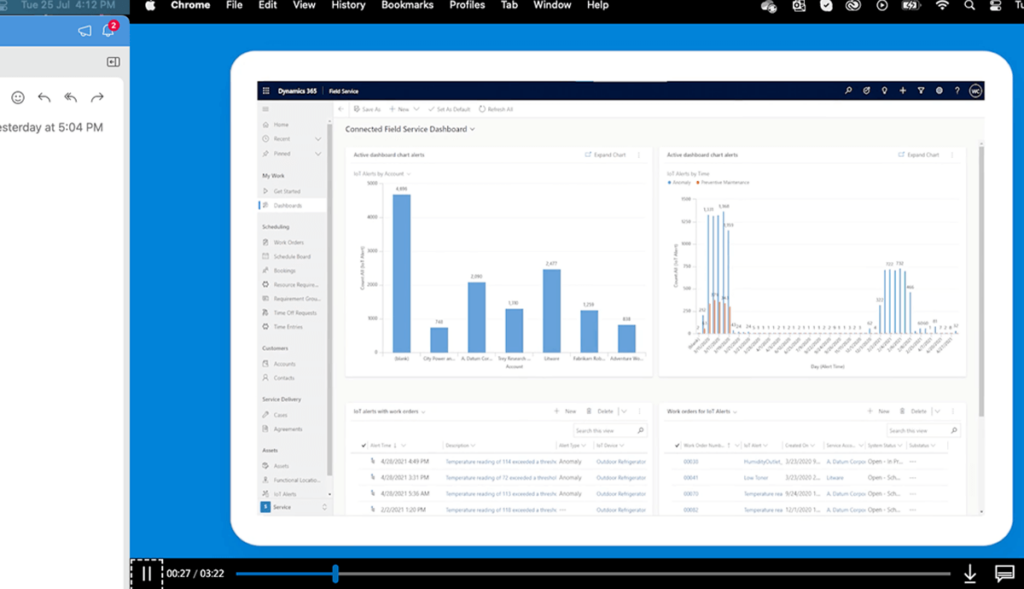 The Field Service module is designed for organizations that deliver on-site services and support. It enables efficient scheduling, resource optimization, and real-time tracking. Notable features include:
Work Order Management: Create, assign, and track work orders for field technicians, ensuring that service requests are fulfilled promptly.
Resource Scheduling: Optimize resource allocation and scheduling to maximize efficiency and reduce response times.
Mobile Access: Empower field technicians with mobile applications that provide access to critical information and support offline capabilities.
Dynamics 365 for Project Service Automation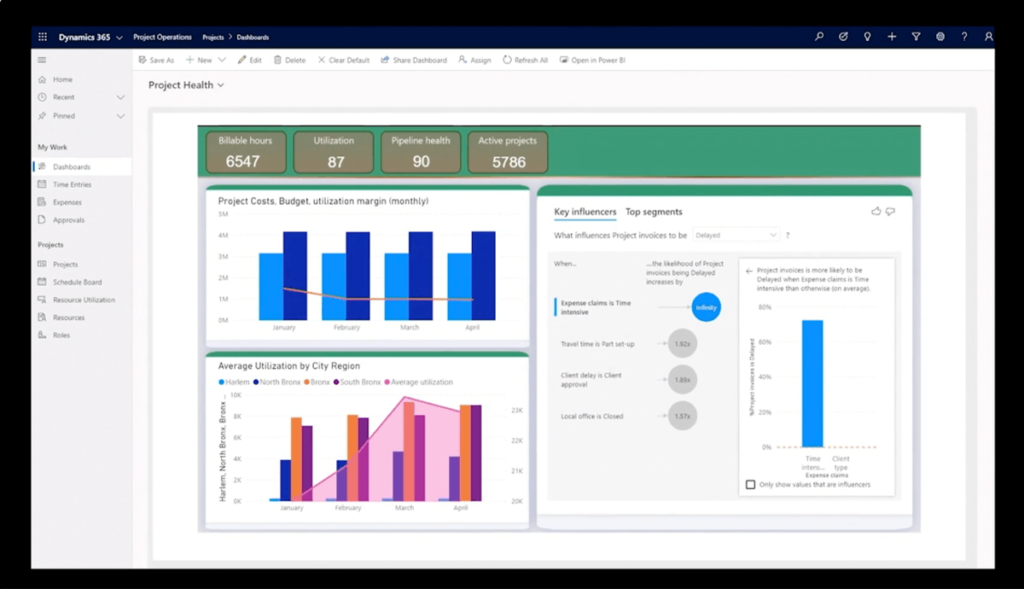 The Project Service Automation module empowers you to enhance growth through streamlined project management, ensuring higher profitability by budget management and increased productivity. With this module, you can:
Efficiently manage projects.
Optimize resource utilization.
Predict project profitability.
Enhance productivity.
Drive innovation with a flexible and contemporary platform.
Final thoughts…
As businesses continue to evolve, Microsoft Dynamics 365 remains a valuable solution for meeting the ever-changing demands of the modern business landscape.
Dynamics 365 offers a comprehensive suite of modules that cater to various aspects of business management and customer engagement. From sales and marketing to finance, operations, and human resources, these modules work in harmony to provide a unified platform for organizations to streamline processes, make data-driven decisions, and deliver exceptional customer experiences.
Share your thoughts on the above blog post. If you have any doubts further, our Microsoft Dynamics 365 specialists would love to help you. Connect with us.