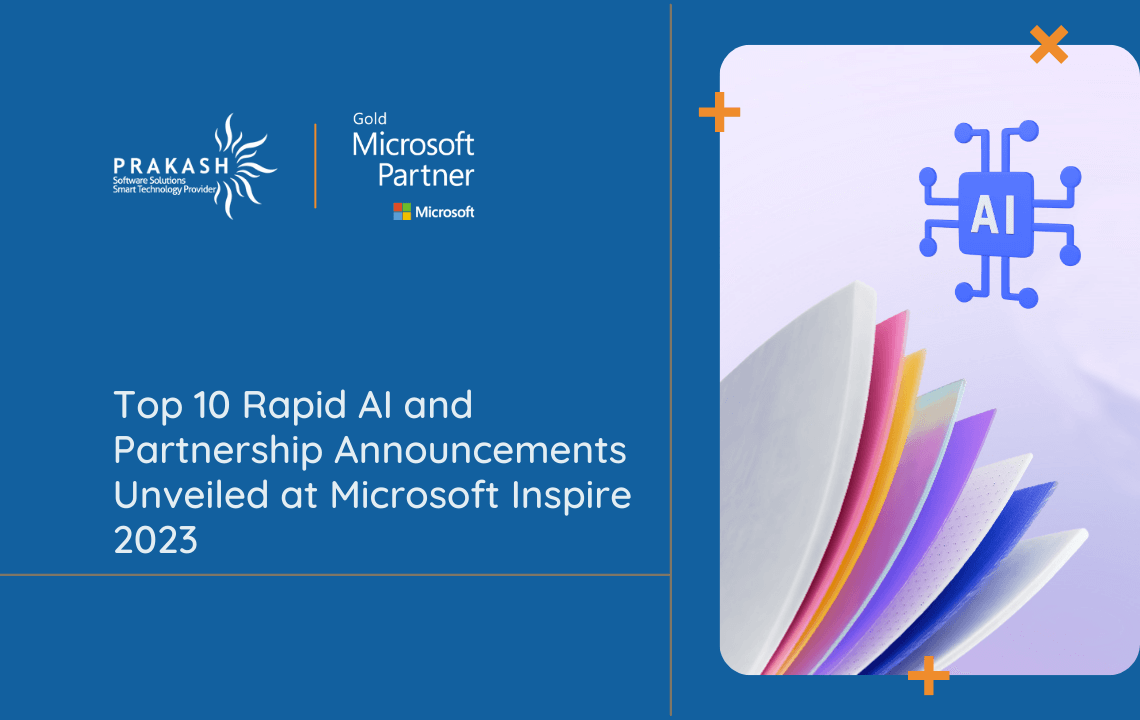 Top 10 Rapid AI and Partnership Announcements Unveiled at Microsoft Inspire 2023
Microsoft Inspire is a significant event for technology enthusiasts, businesses, and developers. It serves as a platform for Microsoft to showcase their latest innovations, share industry insights, and outline their vision for the future. The 2023 edition of Inspire promised to be an exciting one, filled with numerous announcements, product demonstrations, and engaging sessions.
This year Microsoft Inspire took place on July 18-19, 2023. The focus this year was mainly on AI advancements and partnership prospects. AI took center stage, with Microsoft Chairman and CEO, Satya Nadella, emphasizing the ongoing transformative power of the new AI generation. He said, "We are in the midst of a massive platform shift with the new generation of AI."
Apart from this, Microsoft made several exciting announcements, including pricing details for Microsoft 365 Copilot, the introduction of Bing Chat Enterprise—a privacy-conscious chatbot integrated into Microsoft 365 for businesses—and notable enhancements to the Azure AI model catalog, alongside other compelling offerings.
Let us now quickly delve into 10 Noteworthy AI Advancements and Strategic Partnerships from Microsoft's Inspire 2023.
Microsoft 365 Copilot
Introducing Microsoft 365 Copilot, your AI Large Language Model (LLM) companion for enhanced productivity within Microsoft Office applications. With the ability to assist you in writing, summarizing, and creating content, think of it as a knowledgeable, embedded ChatGPT tailored to each Office app.
Microsoft 365 Copilot pricing details are finally available. For Microsoft 365 E3, E5, Business Standard, and Business Premium customers, the subscription cost is $30 per user per month, once it is generally available.
During a recent demonstration in Teams, Yusuf Mehdi, the Corporate Vice President and Chief Marketing Officer for Microsoft's consumer division, showcased the capabilities of Copilot. He effortlessly created a PowerPoint presentation and subsequently generated a summary of the content, all from within the Teams platform. However, as of now, Microsoft has not disclosed the official release date for Copilot's general availability.
AI – Revolutionizing Sales-Related Activities
AI capabilities are revolutionizing sales-related activities, addressing various challenges faced by sales agents. Managing diverse situations can be daunting, especially for less experienced agents dealing with demanding customers who expect instant responses. Fortunately, AI comes to the rescue, offering valuable support.
Microsoft has unveiled a range of sales automation advancements at Inspire 2023. One such innovation is Dynamics 365 Customer Insights, which leverages AI to analyze and predict customer interaction data, enhancing customer journey orchestration. This AI-powered solution is available through a subscription program, aiding businesses in better understanding and engaging their clientele.
For CRM users, Microsoft Sales Copilot offers a suite of productivity and support tools. These tools are designed to streamline sales processes and improve the efficiency of sales teams, ultimately contributing to better customer interactions.
In addition to these initiatives, Microsoft's AIM program guides customers in transitioning from on-premises applications to cloud-based solutions with AI-guided support. This facilitates a smooth and seamless migration process, benefiting both businesses and their customers.
To further augment sales organizations, AI-driven chatbots are being introduced. These chatbots, integrated with Copilot, possess the advanced capabilities of services like ChatGPT. However, they are specifically tailored to cater to customer service needs and equipped with in-depth knowledge about the products and services, ensuring personalized and effective assistance to customers.
In conclusion, the convergence of AI and sales-related activities presents an incredibly promising prospect, empowering businesses to deliver exceptional customer experiences, optimize sales processes, and stay ahead in the dynamic market landscape.
Unleash Your Business's True Potential with AI Capabilities
Every aspect of a business can be viewed as a process, making it ripe for optimization. Process automation and mining are essential tools that can unravel the intricacies of business operations, leading to valuable insights, streamlined processes, and heightened productivity.
Introducing Microsoft's groundbreaking solution, Power Automate Process Mining, aimed at enabling continuous improvement within organizations. The highly anticipated announcement at Inspire 2023 is the imminent general availability of Power Automate Process Mining, scheduled for release on August 1. This AI-powered tool is equipped with cutting-edge features that offer comprehensive process analysis and insights, facilitating the optimization of existing processes, enhancing efficiency, and providing valuable suggestions for automation.
To further expedite implementation, Microsoft offers "Out-of-Box" templates that accelerate the onboarding process. Deep AI integration empowers process automation and analysis tasks with enhanced intelligence, boosting the effectiveness of the entire system. Emphasizing the long-term commitment to process improvement, Microsoft provides an ongoing process enhancement environment, ensuring that process analysis becomes an integral part of the organization's DNA, fostering continuous growth and progress.
In addition to the impressive features, Microsoft introduces a range of flexible license options, catering to diverse business needs and requirements.
To embark on this transformative journey, two invaluable resources are available: trial plans that grant access to the tool for exploration, and a comprehensive getting started guide to facilitate a smooth and successful adoption process.
Embrace the power of AI-driven process optimization and revolutionize your business operations, unveiling new heights of efficiency, cost reduction, and operational excellence.
Substantial Investment of $100 Million to Bolster Partner Innovation Support
At Inspire 2023, Microsoft revealed its commitment to bolster partner innovation by injecting an additional $100 million into the analytics and AI domain. The primary objective of this initiative is to empower partners in integrating AI solutions into their applications, extracting valuable insights from analytics, and crafting tailor-made cloud-native applications with AI functionalities. For instance, partners can leverage this investment to create custom AI copilot solutions using data from their customers or vendors.
This support will encompass exploring and designing capabilities, facilitating migration and modernization efforts, and fostering the creation of novel solution offerings.
Elevate To the Enhanced Azure Migration Support Program
Microsoft has rebranded its Azure Migration and Modernization Program (AMMP) to Azure Migrate and Modernize, with an expanded feature set. This shorter-named program offers an expanded set of features, like assessments, enhanced partner incentives, and support for various workloads, such as high-performance computing (HPC), Oracle, Linux, SAP, and mainframe migrations. At Inspire 2023, Microsoft revealed plans for a significant investment to expand the scale and availability of Azure Migrate and Modernize.
Introducing the New Microsoft AI Cloud Partner Program
Microsoft has unveiled its latest initiative, the AI Cloud Partner Program, during the Inspire 2023 event. The primary aim of this program is to collaborate closely with Microsoft AI and Microsoft Cloud partners, capitalizing on their expertise and resources. By doing so, the program seeks to empower partners to develop AI-driven applications, revamp their existing applications with advanced AI capabilities, and facilitate swift migration of services to the cloud.
In keeping with the trend of metaverse adoption among major tech companies, Microsoft has also revealed its plan to integrate its industrial metaverse into the AI Cloud Partner Program by early 2024. This addition will enable partners to explore exciting possibilities within the metaverse realm.
For existing Microsoft partners, a seamless transition into the new AI Cloud Partner Program is on the horizon. Whether it happens instantly or shortly after the program's launch, there is no need for partners to take any specific actions. All current benefits and designations will be retained and carried over into the new program, ensuring a smooth and uninterrupted partnership experience.
Introducing New Designations for Solutions Partners
The recently launched AI Cloud Partner Program introduces exclusive AI designations for select partners, allowing them to showcase their expertise in delivering top-tier AI services through their marketing initiatives.
In addition to the AI designation, Microsoft has unveiled several other commendable designations to highlight proven skills and specializations. These encompass a training service designation, an ISV (independent software vendor) designation, and a support services designation. These distinctions aim to recognize and promote partners' exceptional capabilities in their respective areas of focus.
Epic Systems
Microsoft is demonstrating the practical integration of AI and partner initiatives by highlighting its collaboration with Epic Systems, a prominent healthcare provider known for its software solutions for medical professionals and hospitals. In this partnership, Epic has integrated Microsoft's AI technology in two significant ways.
Firstly, the AI has been incorporated into Epic's patient information software, streamlining the process for doctors to access patient data, update medical reports, and respond to patient-related messages efficiently.
Secondly, Epic has also integrated Nuance DAX Express, a cutting-edge voice transcription tool developed by the renowned vendor, known for their expertise in Dragon Naturally Speaking. This tool represents a breakthrough in clinical documentation as it combines proven conversational and ambient AI with OpenAI's latest and most advanced model, GPT-4.
These powerful capabilities have been seamlessly integrated into Epic's latest offerings, which are currently being showcased at the prestigious event, Inspire 2023. This demonstration serves as a testament to how AI and strategic collaborations can drive real-world solutions, benefiting both healthcare professionals and their patients.
Satya Nadella shares what differentiates Microsoft while closing his keynote at Microsoft Inspire 2023.
Marketplace Vendors Can Now Collaborate More Easily
Microsoft has introduced a significant advancement in the form of "multiparty private offers" within the Microsoft marketplace. Initially unveiled as a private preview last month, this feature is now being announced as generally available at Inspire 2023.
So, what exactly are multiparty private offers? In essence, they provide a seamless avenue for collaboration among Microsoft partners. With this feature, vendors can join forces, working together to submit joint bids on deals using the comprehensive tools available in Microsoft's commercial marketplace. This enhancement fosters smoother cooperation and enables partners to explore new opportunities collectively, unlocking the potential for more efficient and effective collaboration within the marketplace.
In essence, the recent update empowers businesses seeking significant deals that require multiple vendors to collaborate and provide services. By leveraging the capabilities of the commercial marketplace, such collaborative endeavors can now be facilitated seamlessly.
The ISV Success Program Is Now Generally Available
Introduced by Microsoft last year, this initiative aims to support early-stage independent software vendors by assisting them in developing well-architected applications, publishing on the Microsoft Marketplace, and boosting sales. Participants also gain significant benefits, including access to thousands of dollars worth of Microsoft and Azure services. The ISV Success program has been announced as generally available by Microsoft.
Hope you enjoyed reading the above post.
Happy Reading!