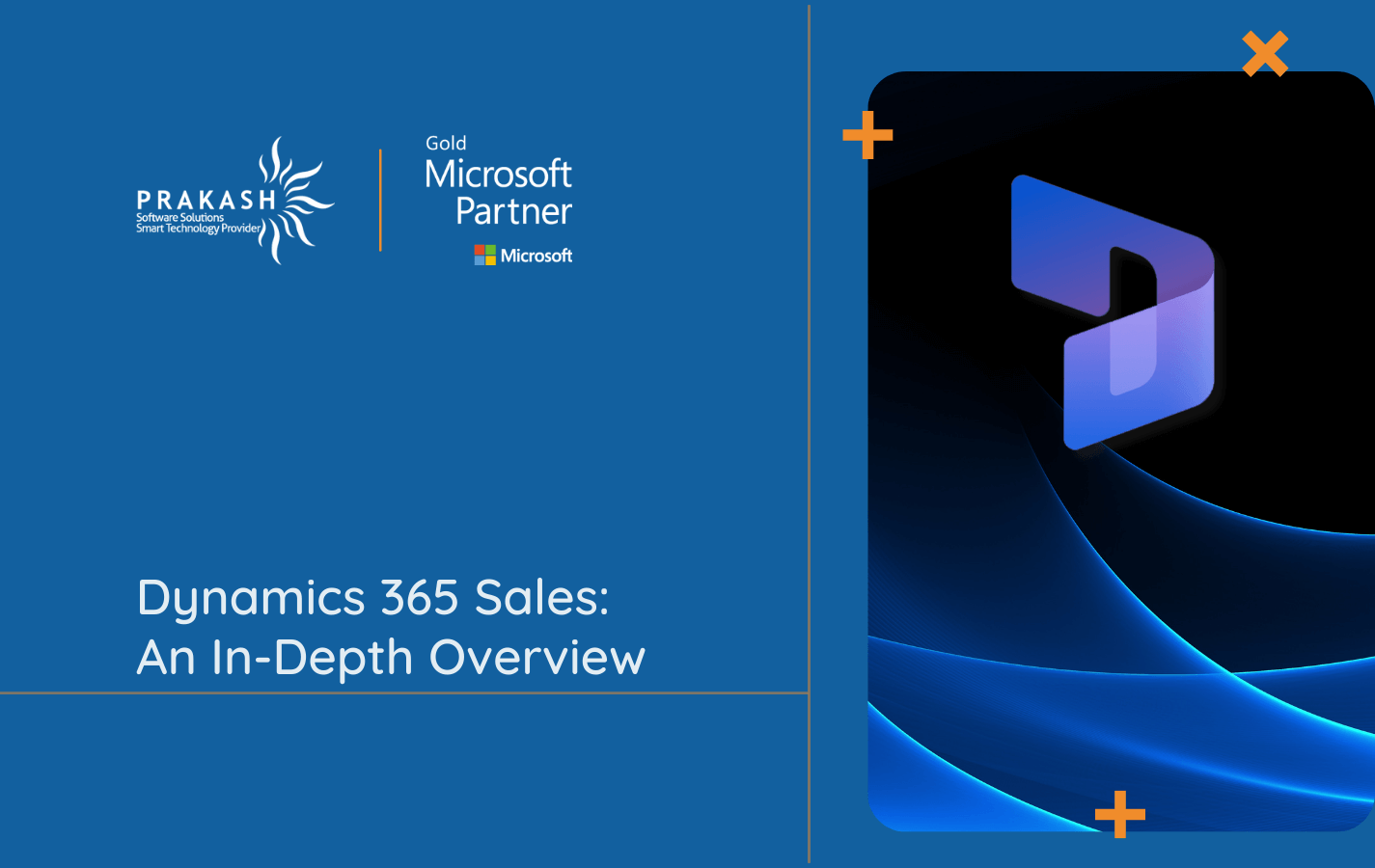 Microsoft Dynamics 365 Sales: An In-Depth Overview
Are you looking for a tool that can help your sales team efficiently handle the entire sales cycle, starting from lead capture, progressing through opportunity management, and concluding with order generation?
Microsoft Dynamics 365 Sales from a list of Microsoft Dynamics 365 Modules can be of much help to you.
Dynamics 365 Sales is one of the Microsoft Dynamics 365 Business Central Modules. It serves as a comprehensive solution designed to streamline and optimize sales processes, improve customer interactions, and drive revenue growth.
This powerful system goes beyond traditional CRM functionalities, offering impressive flexibility to cater to diverse business needs. The platform seamlessly integrates with your other business applications, creating a cohesive experience by sharing data across various applications and departments.
In this blog post, I will take you through the various features of Dynamics 365 Sales, its limitations, its integration capabilities with other applications, use cases, pricing, and the key considerations for successful implementation.
Let's begin.
Features of Dynamics 365 Sales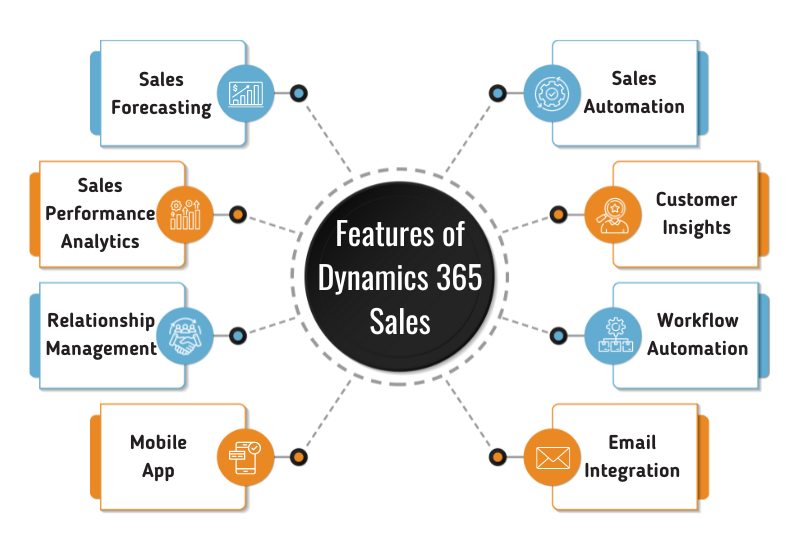 Sales Forecasting:
The platform leverages historical data and predictive analytics to generate accurate sales forecasts. This feature helps sales managers make informed decisions and optimize resource allocation.
Sales Automation:
Dynamics 365 Sales offers robust sales automation features, including lead management, opportunity tracking, and pipeline visualization. Sales representatives can efficiently manage their sales cycle, prioritize leads, and track progress with real-time updates.
Sales Performance Analytics:
The system provides comprehensive sales performance analytics and reporting dashboards. Managers can identify strengths and weaknesses, assess individual and team performance, and implement improvement strategies.
Customer Insights:
The platform provides valuable customer insights through AI-driven analytics. Sales teams can understand customer preferences, historical interactions, and purchase patterns, enabling personalized and targeted sales strategies.
Relationship Management:
Dynamics 365 Sales empowers sales professionals to build and nurture strong customer relationships. The system facilitates collaboration across departments, ensuring a seamless flow of information.
Workflow Automation:
Automating repetitive tasks and workflows reduces manual efforts and enhances overall efficiency. Dynamics 365 Sales streamlines processes like approvals, alerts, and notifications.
Mobile App:
Dynamics 365 Sales offers a mobile application, enabling sales representatives to access critical data on-the-go. It ensures responsiveness, flexibility, and improved productivity.
Email Integration:
The platform seamlessly integrates with Microsoft Outlook, facilitating email tracking and engagement monitoring. This feature enables sales reps to prioritize follow-ups and stay connected with prospects and clients.
Integrations with Other Apps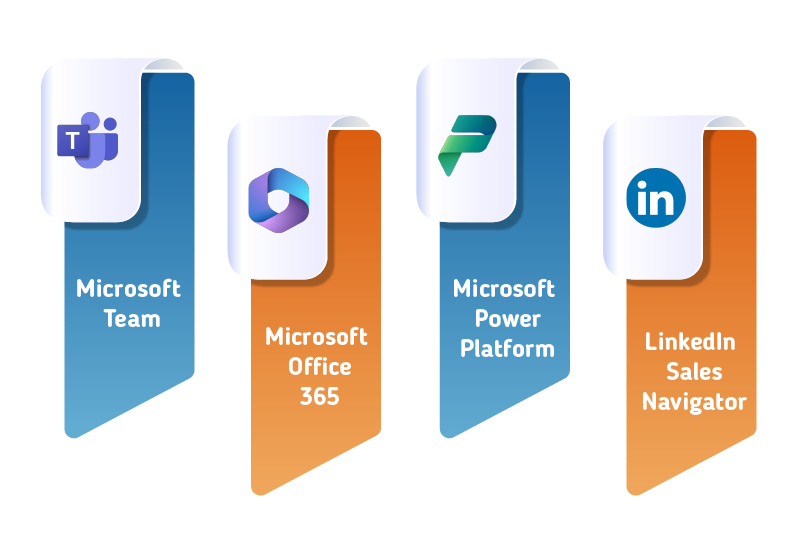 Dynamics 365 Sales supports seamless integration with various Microsoft products and other third-party applications.
Let's learn more about some notable integration that includes:
Microsoft Teams:
Teams integration fosters collaboration between sales and other departments, enabling efficient communication and knowledge sharing.
Microsoft Office 365:
Tight integration with Office applications like Outlook, Word, and Excel enhances productivity and data synchronization.
Microsoft Power Platform:
Integration with Power Automate, Power BI, and PowerApps allows for the creation of custom workflows, data visualization, and app development.
LinkedIn Sales Navigator:
This integration provides valuable insights from LinkedIn directly into Dynamics 365 Sales, empowering sales professionals with additional prospect information.
Dynamics 365 Sales Use Cases
The primary goal of Dynamics 365 Sales is to facilitate the creation, management, monitoring, reporting, and forecasting of sales activities.
Dynamics 365 Sales serves as a valuable solution for companies with a sales-focused approach or those with a well-integrated salesforce.
By establishing standardized sales processes and adaptable sales playbooks, companies can ensure consistent quality while also promoting employee satisfaction.
The system's predictive alerts and reminders expedite the progression of sales processes through the pipeline, reducing overall sales cycle times. As you ascend through the license tiers, additional advanced features become available, yet the fundamental use cases remain consistent.
Small and Medium Business
First Dynamics 365 app
Subsequent qualifying Dynamics 365 app
Business Central Essentials
From ₹ 5,495 per user/month
Business Central Premium
From ₹ 7,853 per user/month
Customer Service Professional
₹ 3,925 per user/month
₹ 1,570 per user/month
Sales Professional
₹ 5,105 per user/month
₹ 1,570 per user/month
Implementation Considerations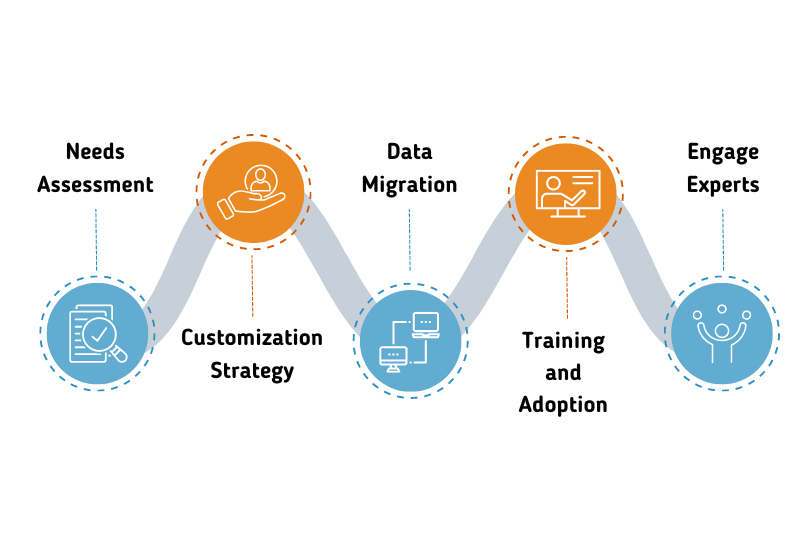 Needs Assessment:
Always ensure that before implementation, you conduct a thorough need assessment to identify their specific requirements, pain points, and goals.
Customization Strategy:
Define the level of customization needed and identify whether it can be achieved through standard functionalities or requires additional development.
Data Migration:
Plan for smooth data migration from existing systems to Dynamics 365 Sales to maintain data integrity and continuity.
Training and Adoption:
Proper training for employees is essential to ensure the successful adoption of the platform and maximize its benefits.
Engage Experts:
Engaging experienced consultants or Microsoft partners can simplify implementation, reduce risks, and expedite the process.
Limitations of Dynamics 365 Sales
Like a coin has two sides, this platform too has advantages and limitations. Let's glance at some of the limitations.
Complexity:
The platform's extensive functionality can make it overwhelming for small businesses or organizations with limited IT resources. Customization and configuration may require expert assistance.
Customization Constraints:
While the platform offers some degree of customization, certain complex requirements may need third-party plugins or extensions, incurring additional costs.
Learning Curve:
Transitioning to Dynamics 365 Sales might require significant training for employees, potentially impacting initial productivity.
Data Security and Compliance:
For businesses dealing with sensitive customer data, ensuring data security and compliance with regulations is crucial. Adequate measures must be implemented to safeguard customer information.
Cost:
Dynamics 365 Sales can be expensive, especially for organizations with a large user base. Licensing fees, implementation costs, and ongoing maintenance expenses must be considered.
Conclusion
Dynamics 365 Sales offers a comprehensive CRM solution to optimize sales processes, strengthen customer relationships, and boost revenue generation.
Embrace the boundless capabilities and potency of D365 Sales, but remember that it also brings forth intricate opportunities. Thus, partnering with a seasoned Dynamics 365 Sales expert like PSSPL becomes crucial as we can adeptly guide you through this complexity.
Navigating the system requires proficiency and expertise, and that's precisely what a skilled company like PSSPL can offer.
We can thoroughly comprehend your specific needs, aligning them with the appropriate features within the Dynamics 365 suite, ensuring a seamless match with your business requirements and processes.