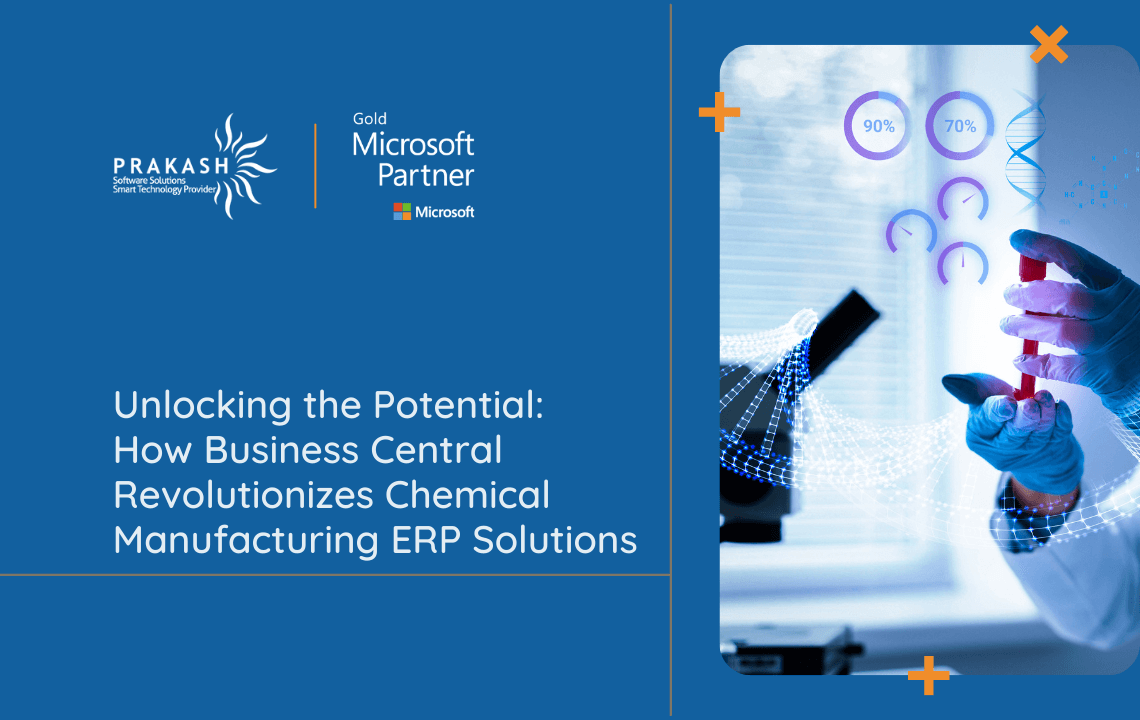 Chemical Manufacturing ERP Revolution with Business Central
Do you know why Microsoft Dynamics 365 Business Central shines as the perfect pick for chemical manufacturers?
The chemical manufacturing industry is intricate and challenging, necessitating strict adherence to regulatory standards, precise inventory control, and efficient production procedures.
Manufacturers in this sector face the constant fluctuations of the market and the complexities of managing various business operations, making it a daunting task.
Additionally, the industry's competitiveness demands continuous innovation and the development of new products to maintain a competitive edge.
Enterprise Resource Planning (ERP) systems play a vital role in streamlining operations and enhancing efficiency in chemical manufacturing businesses. Among the various ERP solutions available, Microsoft Dynamics 365 Business Central stands out as an ideal choice for chemical manufacturers.
At PSSPL, as a Microsoft partner solution, we recognize the difficulties faced by chemical manufacturing businesses in effectively managing their day-to-day activities. To address these challenges and enable businesses to streamline their processes, optimize operations, and foster innovation, we present a cutting-edge solution – Microsoft Dynamics 365 Business Central.
In this essay, we will explore the key features that make Dynamics 365 Business Central the best ERP for chemical manufacturing businesses.
Let's get started.
Enhancing Formula Management
In the realm of chemical manufacturing, effective formula management plays a crucial role, and Dynamics 365 Business Central offers a powerful solution to elevate it.
This software empowers businesses to create and manage streamlined workflows, simplifying formula optimization, creating formula variants, and efficiently handling labeling content.
Leveraging its integrated database and automated workflows ensures the accuracy and consistency of product information, ensuring compliance with regulatory requirements.
Additionally, automation reduces manual calculations, significantly minimizing the risk of errors, which, in turn, helps avoid costly recalls, rejections, and fines.
Streamlined Batch Scheduling
Chemical manufacturing enterprises can achieve efficient batch creation and scheduling through Dynamics 365 Business Central. This capability allows businesses to optimize their production processes, maximizing output while reducing downtime and waste.
By carefully sequencing batch production, the risk of contamination or cross-contamination between batches is minimized, thus safeguarding product quality and consistency.
Moreover, businesses can ensure they produce the precise quantity and mix of products to meet customer demands, leading to cost reduction and enhanced operational efficiency.
Embracing this feature paves the way for smarter and more efficient work processes, fostering business growth.
Quality Control and Compliance
Maintaining high product quality and adhering to strict industry regulations are essential in chemical manufacturing.
Business Central allows for real-time monitoring of quality metrics, traceability of raw materials and finished products, and adherence to safety protocols. This minimizes the risk of product recalls and ensures compliance with regulatory bodies.
Inventory Management
Dynamics 365 Business Central optimizes inventory management by providing real-time insights into stock levels, demand forecasting, and supplier performance. It enables just-in-time production, reduces inventory carrying costs, and ensures timely deliveries to customers.
Optimizing Scrap & Waste Management
With Microsoft Dynamics 365 Business Central, chemical manufacturing businesses can effectively handle scrap management based on routes, resources, or Bills of Materials (BOM).
The advanced AI-powered insights provided by the software empower businesses to reduce overstocking and stock-outs, ensuring a more efficient inventory management process.
Additionally, by prioritizing product quality, the system minimizes losses during production, enhancing overall operational efficiency.
Scalability and Flexibility
As chemical manufacturing businesses grow, they require scalable ERP solutions that can accommodate their expanding needs. Business Central is highly scalable, allowing companies to add functionalities and users as their operations grow.
Moreover, it provides customization options, allowing businesses to tailor the ERP system to their specific requirements.
Financial Management and Reporting
Business Central boasts robust financial management capabilities, such as general ledger, accounts payable, accounts receivable, and fixed asset management.
The system offers real-time financial insights, enabling better decision-making and cost control. Additionally, it facilitates detailed financial reporting to comply with auditing requirements and financial regulations.
Customer Relationship Management (CRM)
Business Central integrates seamlessly with Microsoft's CRM application, Dynamics 365 Sales. This integration enables chemical manufacturers to enhance customer relationships, manage leads, and track customer interactions efficiently.
A unified CRM-ERP solution fosters a 360-degree view of customers, driving better customer service and loyalty.
Business Intelligence and Analytics
Data-driven decision-making is vital for success in the chemical manufacturing sector. Business Central offers built-in business intelligence tools and analytics, providing actionable insights from real-time data. These analytics enable businesses to identify trends, optimize operations, and strategize for growth.
Conclusion
Dynamics 365 Business Central's tailored features for the chemical manufacturing industry make it the best ERP solution for such businesses.
From industry-specific functionality to robust financial management, quality control, and supply chain optimization, Business Central empowers chemical manufacturers to drive efficiency, compliance, and growth.
By embracing this ERP system, chemical manufacturers can gain a competitive edge in an ever-evolving market and stay at the forefront of their industry.
You can count on PSSPL as a Microsoft Solutions Partner, and we have a strong presence not only across India but also overseas with multiple offices.
With more than two decades of expertise in Business Management Consulting, we are committed to Microsoft's vision of enabling a comprehensive and seamless Digital Transformation for all our clients. 
Our strong belief drives us to deliver transformative solutions that align with this vision and empower businesses to thrive in the digital age. Contact us to know more.