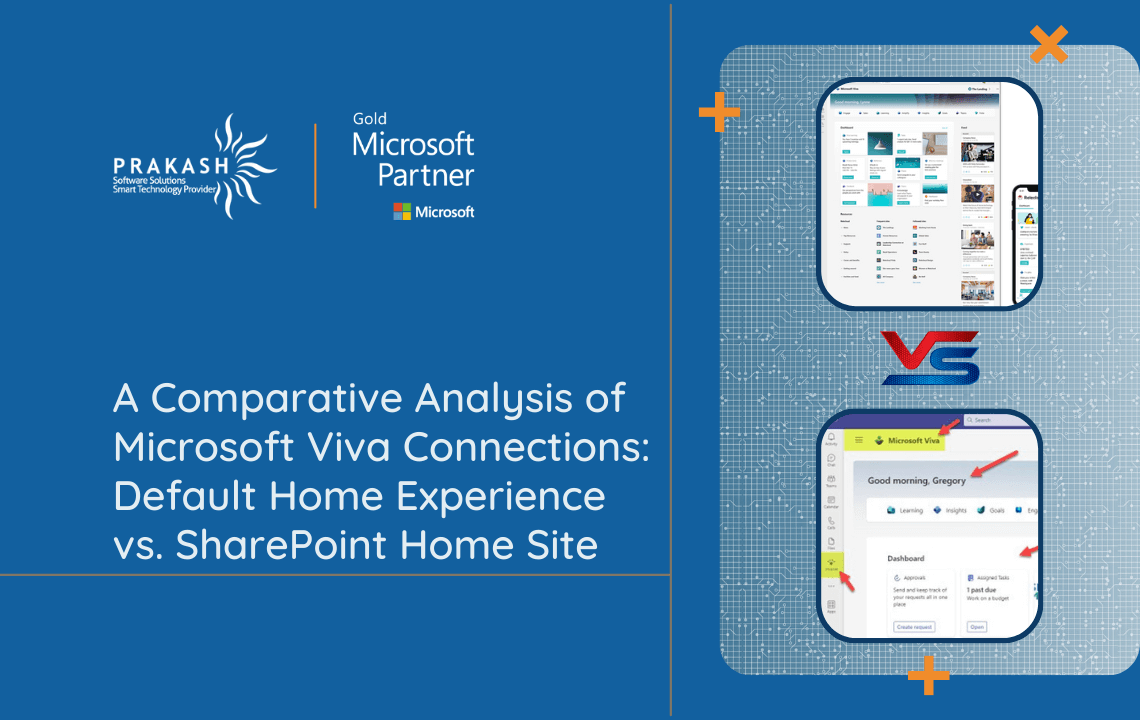 Assessing Microsoft Viva Connections: Default Home Experience vs. SharePoint Home Site
Do you believe in the power of a well-structured intranet in driving employee engagement?  OR
Are you curious about the latest collaboration tools from Microsoft? Today, we'll be diving into a detailed comparison of Microsoft Viva Connections' Default Home Experience and SharePoint Home Site.
We all are well aware that in a remote work setting, one of the evident challenges is the absence of social connections. The feeling of isolation and disconnection can easily creep in when you spend your entire day behind a screen, working alone in your living room. However, social connections play a crucial role in promoting collaboration and increasing productivity.
Fortunately, Viva Connections provides a solution that combines the advantages of remote work flexibility with the benefits of social connection.
Viva Connections, an integral part of Microsoft Viva, is specifically designed for employees working from home. It offers a curated and company-branded experience that brings together relevant news, conversations, and resources directly to the apps and devices you use daily.
By utilizing Viva Connections, you can overcome the challenges of remote work, ensuring that you stay connected with your colleagues and maintain a sense of belonging within your organization. This platform enables collaboration and enhances efficiency, contributing to a more fulfilling remote work experience.
Microsoft Viva Connections revolutionizes employee engagement and productivity through its two primary features: Default Home Experience and SharePoint Home Site. These distinct offerings cater to diverse organizational needs, with each presenting unique benefits and functionalities.
Viva Connections Default Home Experience
Viva Connections proves highly effective for enterprises that have invested in developing an Intranet, designated it as a Home Site, and enriched it with pertinent material. Nonetheless, what if a company has not embarked on this journey?
In such instances, Microsoft has introduced the Viva Connections Default Home experience. Essentially, it's a page featuring personalized components for users, such as sites they are actively engaging with or frequently visiting, alongside global site navigation.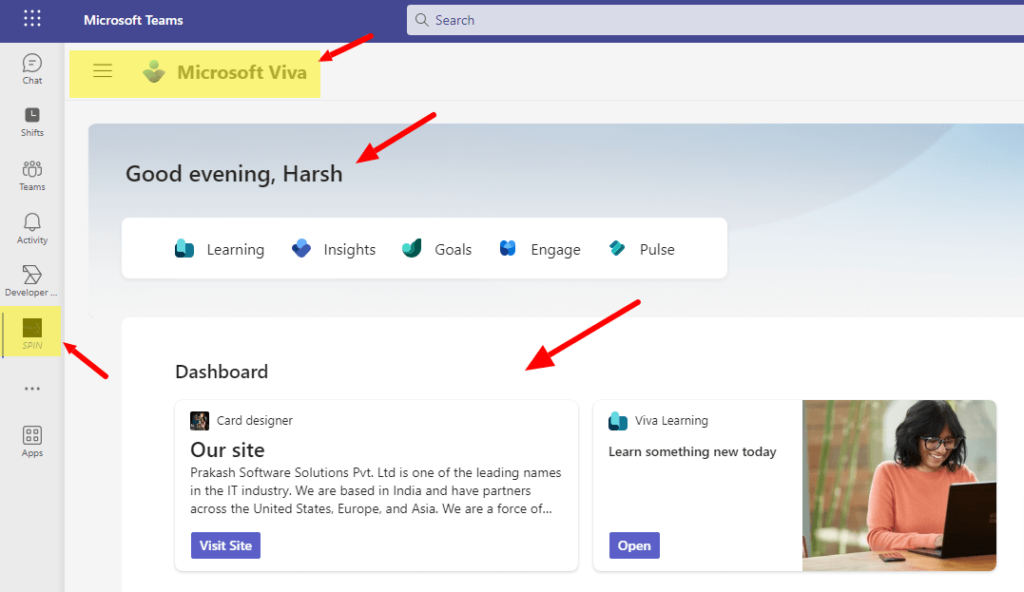 Therefore, if your organization has not established a Home Site but chooses to integrate Viva Connections within Teams (accessible through the Teams Admin Center), you will be presented with the Viva Connections Default Home Experience Page, as depicted in the image above.
Default Home Experience vs. SharePoint Home Site

But generally, what occurs if you have previously established a Home Site and configured Viva Connections? This is where it becomes intriguing.
The Home Site you initially designed will be substituted by the default Viva Connections Home page. To reach the SharePoint Home Site you had previously set up, users will be required to click on the link located in the upper-right-hand corner.
Default Page and Viva Connections Dashboard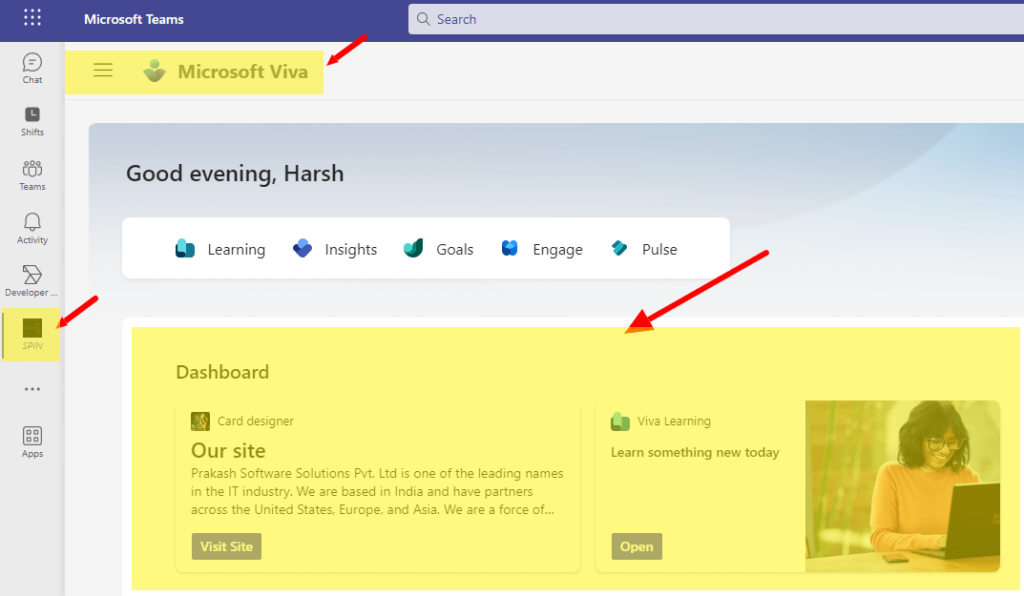 The Viva Dashboard is an individualized control panel that showcases tasks, activities, and other tailored content to the user currently logged in.
And here's an interesting tidbit: if you happen to have crafted the Viva Dashboard, it seamlessly integrates into the layout of the Viva Connections Default page!
Permissions on Viva Connections Default Experience page

You retain the ability to oversee permissions for the Viva Connections Default Page. Nonetheless, its permissions are linked to your corresponding Home Site. By selecting the three dots > Manage Access on the Viva Connections default page, you can configure roles for Owners, Members, and Visitors.
Visitors pertain to individuals who can access the Viva Connections Default Page solely in a read-only capacity.
Members encompass those who possess the privilege to edit the content featured on the Viva Connections Default Page.
Owners comprise individuals endowed with administrative authority, granting them full control access over the Viva Connections Default Page.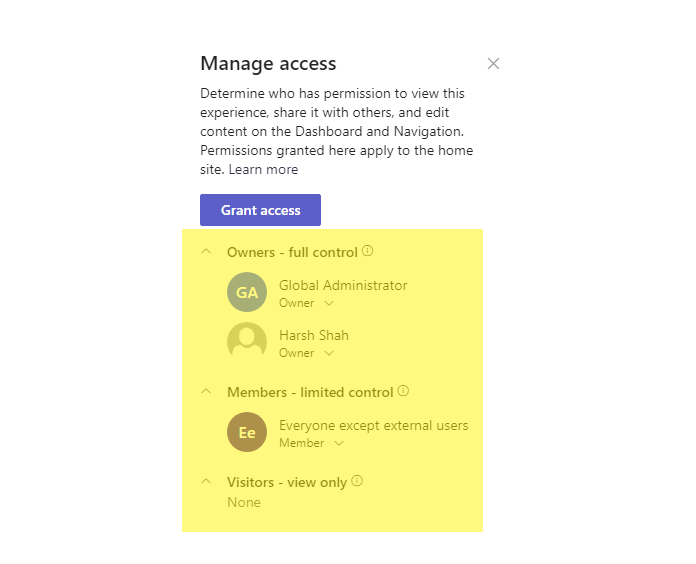 Nonetheless, a complex aspect emerges at this juncture. Any actions undertaken here will reverberate through the permissions structure of the SharePoint Home Site you established. These two sites—the Home Site you initiated and the Viva Connections Default Page—utilize identical security groups.
Consequently, those vested with authority over your Home Site will possess equivalent privileges on the Viva Connections Default Page, and vice versa. Introducing a member to modify the Viva Page will consequently render them a member of your Home Site. Hence, a word of caution to potential purchasers!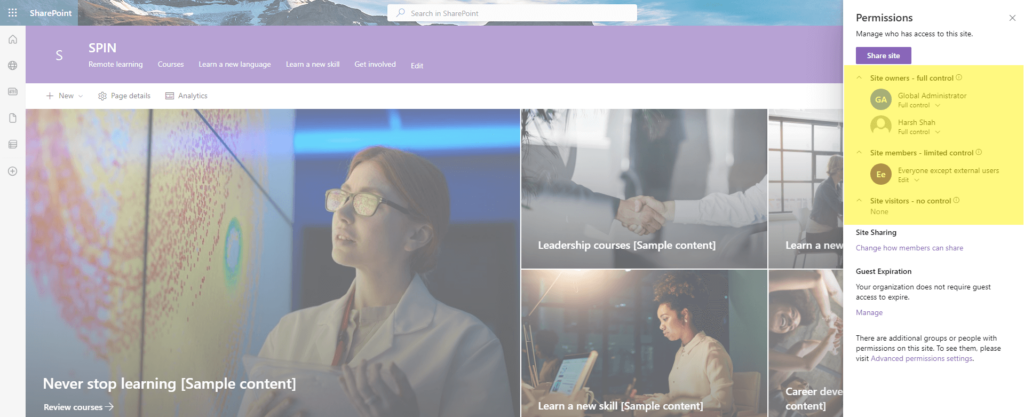 How to bypass the default Viva Connections Page?
The positive aspect is that you can circumvent the Viva Connections Default page. However, the drawback is that achieving this requires executing a PowerShell command.
Below, you will find step-by-step instructions for this process.
Before delving into that, it's also crucial to grasp that the Home Site you established will persist in Draft mode within the SharePoint Admin Center. This approach is taken to facilitate potential content migration from the Viva Connections Default page to your Home Site, should you choose to do so. Once the content transfer is finalized, you can deactivate the draft mode from within the SharePoint Admin Center. This action will alter the Status of your Home Site, transitioning it to "Enabled."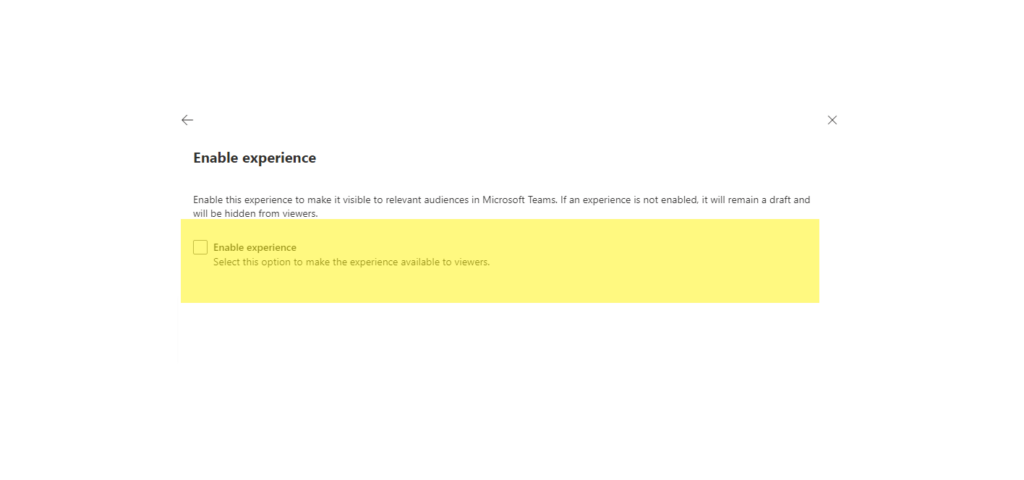 Deactivate the Draft Mode when you're prepared to activate your Home Site.
Once the preceding step is finalized, all that's left to do is execute a PowerShell command. This will enable you to skip the Viva Connections Default Page and seamlessly transition to your personally tailored Home Site whenever users select Viva Connections/Intranet within Microsoft Teams.
Here are the guidelines:

Log in using your Microsoft 365 Admin credentials
Run the following command: Set-SPOHomeSite -HomeSiteUrl "https://yourdomain.sharepoint.com/sites/yourhomesitename" -VivaConnectionsDefaultStart $true

NOTE: The propagation of this alteration to both the browser version of Teams and the Teams Desktop application could take anywhere from a few hours up to 24 hours.
After implementing the aforementioned modification, users will observe the Intranet Home Site upon clicking the Intranet/Viva Connections Icon within Microsoft Teams.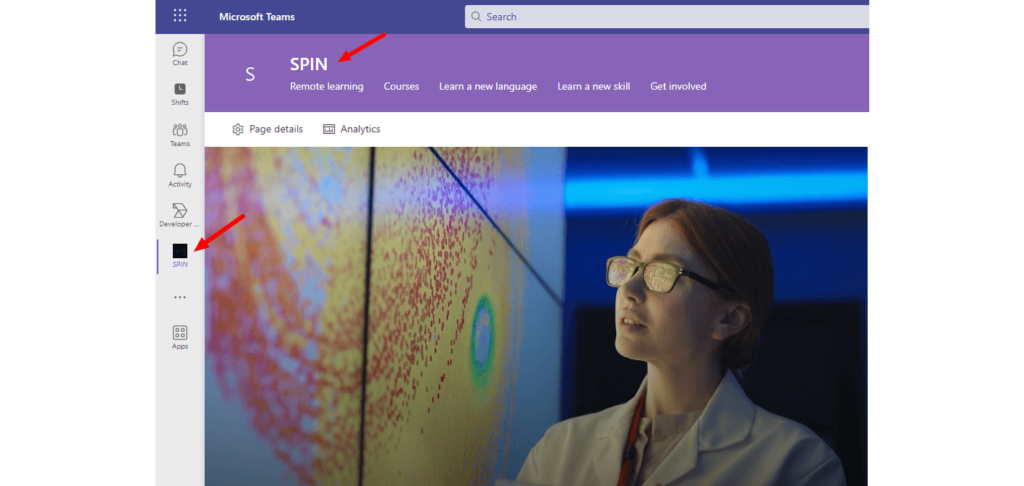 Final Thoughts…
In conclusion, Microsoft Viva Connections offers two distinct experiences to cater to diverse organizational requirements. The Default Home Experience prioritizes user-friendliness and personalized content, while the SharePoint Home Site emphasizes content management and collaboration. Whether you opt for the familiarity and simplicity of the Default Home Experience or the robust customization and branding capabilities of SharePoint Home Site, Microsoft Viva Connections ensures that your workforce remains connected, informed, and engaged.
So, make your choice wisely, keeping in mind the specific needs and preferences of your organization. Embrace the power of Viva Connections to empower your teams, streamline communication, and foster a thriving digital workplace.
In the end, the success of your employee experience lies in your hands, and Microsoft Viva Connections is here to lead the way.
Let's connect, create, and thrive together!