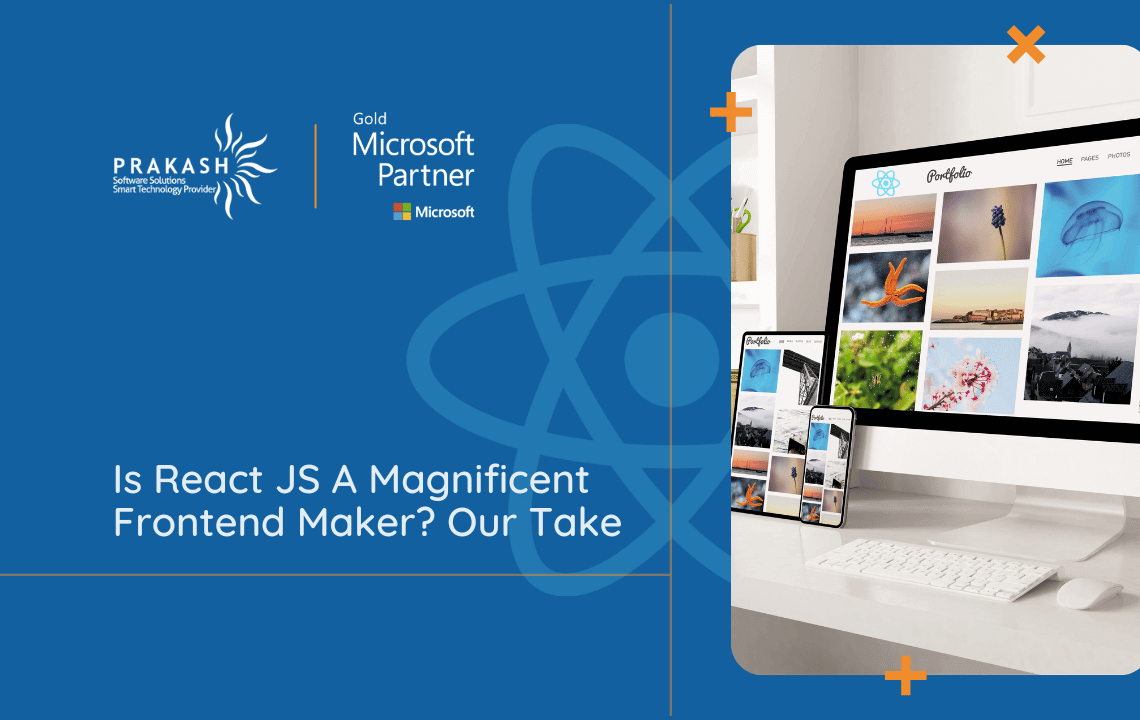 Is React JS A Magnificent Frontend Maker? Our Take
In this digital era, we all are well aware that with time newer tools continue to pour in. The same is the case with front-end development tools, the number keeps on expanding. It makes reasonable that some of these technologies will be better suited to meet the needs of your project than others. For someone, using HTML, CSS, and JavaScript to create a simple frontend will be adequate. However, as the program matures, more powerful tools, such as frameworks and libraries, will be needed for building intricate user interfaces.
Businesses frequently struggle to decide between the plethora of libraries and frameworks that are accessible because each has advantages of its own and serves a certain purpose. One such framework is React. Facebook created the open-source React JavaScript library, which is used for front-end development. You may create web apps with high-quality user interfaces using its component-based library.
Apart from many React JS development services, this framework offers many other benefits that make it an alluring frontend maker.
Interactive User Interface
User interface quality is vital. With React, complex user interfaces are possible.
If your online application has a sleek, excellent user interface, users would like using it. Therefore, designing excellent user interfaces is crucial for business success. As compared to other technologies, React makes it simple to build cool interfaces by using declarative components.
Simple to Use and Learn React JS
With ample resources and training materials accessible, React is simple to use. For developers with a background in JavaScript, it is simple to select React JS. Additionally, React JS is open-source, making it simpler for hiring managers and business owners to find React developers with the necessary skills.
React is a simple language with no significant difficulties; it is comparable to all other JavaScript languages. The simplicity with which React may be learned will appeal to developers who are already familiar with React JS.
By choosing the best React JS Development Company, you can get many benefits of this framework. By utilizing the development tools and reusable components, you may boost your productivity. React has a wide variety of development tools at your disposal to expedite your job. React Developer Tools, for instance, is a browser add-on that can greatly simplify your development tasks. So in lesser time you can make more money.
Some of the big names like Dropbox, PayPal, Walmart, Facebook, and Tesla prefer React. The reason being it's unquestionably a very high-quality tool for front-end development, is the reply.
It's popular and In-style
React is popular and trending. One of the most widely used frontend technologies available today. React enthusiasts are growing in number every day. New folks fall in love with this technology every day.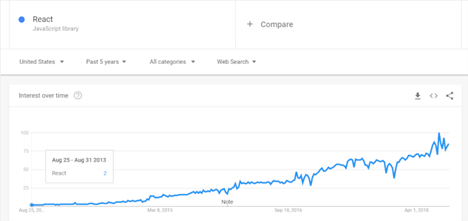 Powerful Community Backing
One of the vital reasons why you should choose React for front-end development is its extensive community support. Since it's an open-source library, a sizable community of React developers is working to improve it while also assisting users in many ways to learn the technology. Therefore, if you run into issues while working with React, you can post them on QA sites and receive trustworthy responses from professionals.
Concluding Lines….
Whenever you are about to choose any framework or library always keep in mind that there is no true framework or library that is more effective than others. But we can always check to see if any iteration meets our standards. As a business owner, you might not always be aware of the framework that will provide you with the best results; this is where the proper software partner comes in!
As a renowned React JS development company, PSSPL has assisted companies of all sizes in implementing cutting-edge technological solutions. Connect with us if you require any help with React JS Development Services.
Happy Reading!!