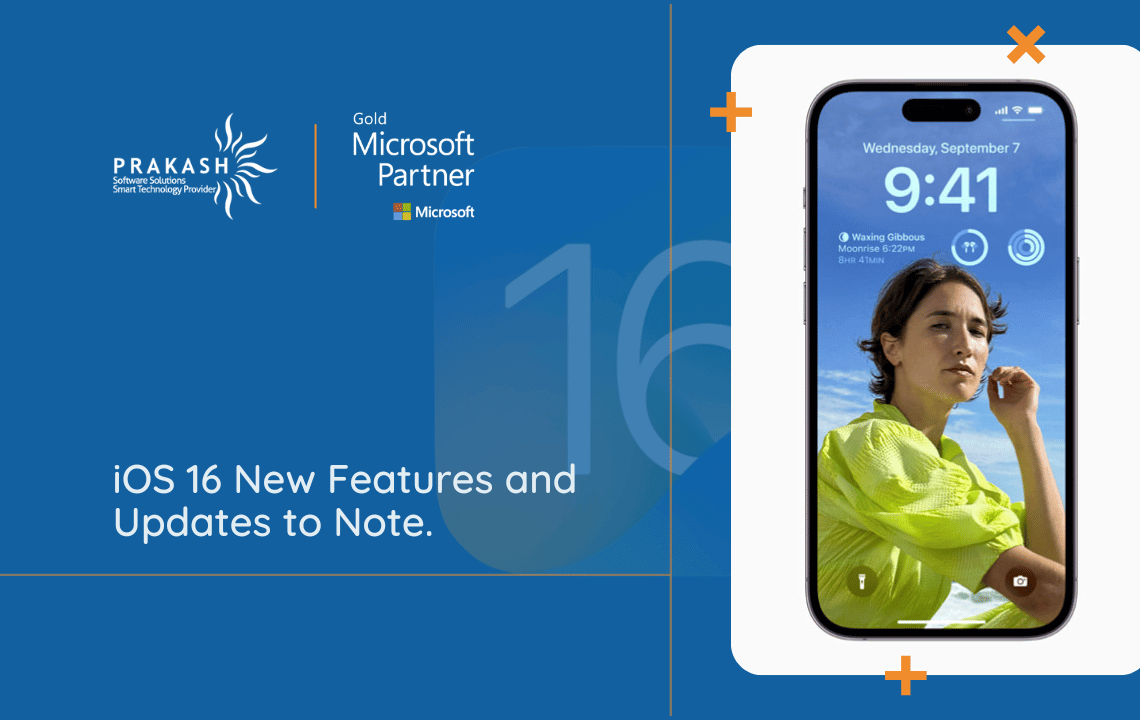 iOS 16 New Features and Updates to Note
Apple is the name most of us adore!!
Apple continues releasing fresh iterations of iOS 16, the majority of which come with bug fixes, security updates, and minor updates. However, some updates bring fresh features that weren't included at the start.
iOS 16 enhances the iPhone with brand-new personalization features, deeper intelligence, and more flexible communication and sharing options.
At PSSPL, our experience with the new iOS 16 was awesome and we would like to share some of the notable features with you. Let's start:
Lock Screen Revamped
Apple entirely overhauled the lock screen in iOS 16. Notifications now appear at the bottom of the screen to protect your lock screen photo's beauty. You have the option to customize, add new widgets, and pin particular live activity types. Apple allows you to set up multiple lock screens, and switching between them is simple.
Focus
You can select the apps and people from whom you want to get notifications by allowing or disabling them. Connect your Focus to your Lock Screen to make sure that your iPhone looks and feels the way you want it to. Widgets that show upcoming meetings and to-do lists enable you to swipe between your Personal Focus and your Work Focus.
Editable Messages
You can now make changes to a recently sent message or decide not to send it at all. Additionally, you can mark a message as unread if you wish to respond to it later but are unable to do so right away.
Safari and Passkeys
A simpler and more secure way to sign in is introduced with Passkeys. In addition to creating tab groups in Safari, such as a collection of tabs for work, iOS 16 also allows you to share these groups with other users. Additionally, you'll be able to monitor in real-time which tabs are being used by others.
Live Text for Video
This is one of the important features of Apple iOS 16. Videos may now be watched with Live Text, a feature that allows you to copy any photo's text before or after you take it. To copy the text, simply pause the video and tap on it. When you choose specific types of text, a few new quick actions become available, such as text translation and currency conversion.
Security Check
This new tool features an emergency reset that will sign you out of iCloud on all other devices, reset privacy permissions, and restrict messages to the device you are currently holding. It also allows you to swiftly revoke any access that you may have allowed to anyone in your circles. Additionally, it reveals to you who has access to your gadgets and apps.
Lockdown
Lockdown mode gives an extremely high level of additional security to your iPhone and iPad to help shield them from "very sophisticated threats." Features, programs, and websites will be restricted when enabled for security reasons to prevent malware or spyware from accessing and compromising particular data.
Family Sharing
The procedure for configuring gadgets for children has been made easier. Simply place your iPhone near your iPad and select the kids' account. All of the parental restrictions you previously set up will be installed. Even screen time extensions are possible. A Family Checklist tool is also available for advice on things like enabling location sharing, adjusting settings as your children get older, and more.
Health Updates
The Exercise app would assist you in tracking and achieving your fitness objectives. Your steps, distance travelled, and workouts from third parties will now estimate your calories to help you reach your daily movement goal using iPhone motion sensors.
The list is much more; you can check more iOS 16 updates on https://www.apple.com/in/ios/ios-16/features/
Tell us what you think; share your comments and feedback, if any.
Happy Exploring!!