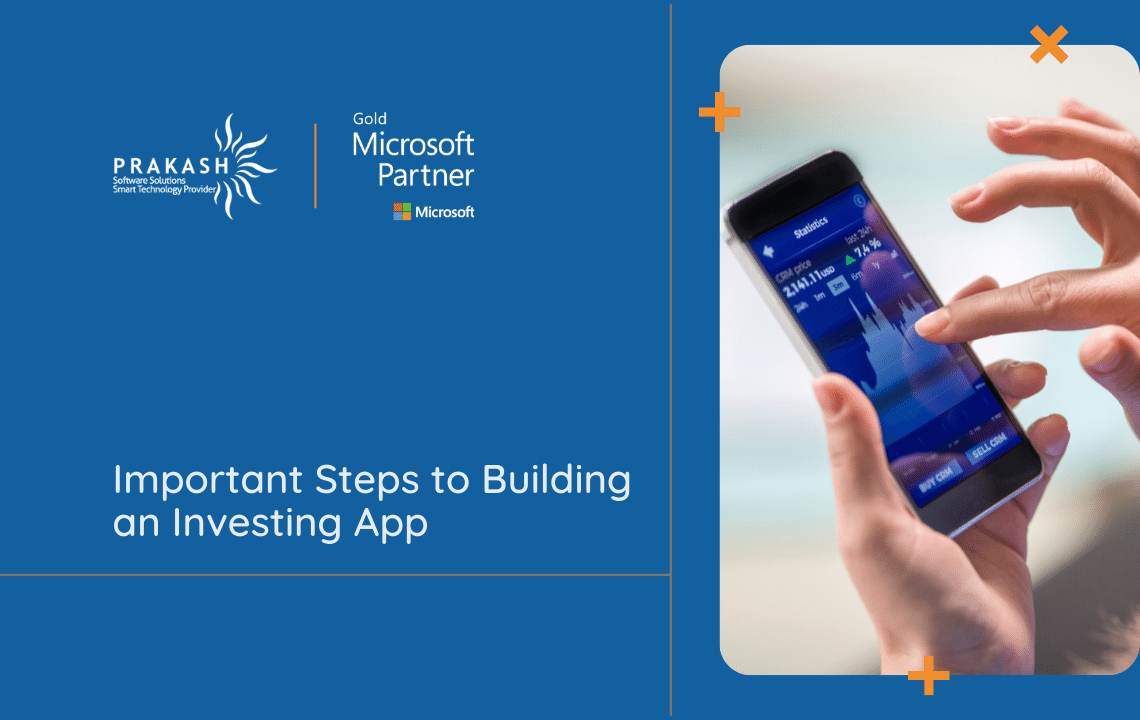 Important Steps to Building an Investing App
For each one of us, investment plays a crucial role. With the advancement of technology, the stock market has undergone a huge transformation. Today investment appears to be easy and doesn't require specialized training. With the emergence of investment apps, all commercial transactions can now be completed using a mobile device.
Let's first understand:
The need for developing a financial app
If you have a financial app you can access up-to-date information on publicly traded companies. From the stock market to other investments in the financial industry mobile investment app can guide you. Keeping a close eye on the investing market enables you to take advantage of the cheap application fees and easily accessible information. Below are some explanations for why you ought to think about creating an investment app.
The first argument in favor of creating an investment app is the wide range of niches that you can get accustomed to.

Another reason for investment app development is the enormous growth of the electronic investment sector.

Lastly, the price that novice investors are willing to pay for a portfolio with a varied range of investments is another aspect to consider. Developing a mobile investment app can help you with most of your investments at a lesser cost.
Now the question is how to build an app for investing. Well, this blog is intended to help you how to succeed in investment app development.
Let's dive in:
Creating an investment app :
Some of the basic but important pointers that are necessary are setting objectives, developing a business plan (organizing your app's structure, deciding on a revenue plan), recognizing legal requirements, and assembling a development team. This can help you turn your idea into reality.
• Set some objectives first
Every task we do has some motto behind it. Setting objectives is the first and most crucial stage in developing an investment app. You can better plan your budget, deadline, product, and marketing strategy if you do this. As a consequence, you will have better knowledge of your project, target market, and qualities of your investment product.
• Creating a business plan
Creating a business plan is a must for financial planning. What share of the commission are you hoping to get? How much will your services cost? Planning everything well in advance gives you an upper hand for better execution and deciding upon your revenue plan. Lastly don't forget to adhere to all the rules and regulations.
• Recognizing legal requirements
Every nation has a regulatory agency that establishes the laws governing the financial sector and the internet. Understanding the regulatory standards is crucial before beginning the investing app's main development process. The fundamental foundations, which mostly deal with end-user privacy, marketing and advertising, intellectual property, and money laundering detection, are nevertheless reasonably consistent.
• Hire your team
Hiring the best resources is the next step. You can build your in-house team or hire freelancers, or even outsource your requirements. You need an entire team of experts to build an investment app: From project managers to iOS or android developers, UX/UI specialists, QA engineers, and testers you need all for building an investment app.
Check out our app: Insurance Mobile Application
• Test and refine
With an MVP in place, QA engineers and programmers continue to test and continuously improve the app's functioning before releasing all of the features in the order of priority. The culmination of this phase is the release of a polished app for purchase and download.
Last but not the least
• Support and Maintenance
This is one of the key features of any app's success. Along with developing new features, you'll also need to keep the existing ones current. Between 20% and 50% of the initial app, budget is often spent each year on maintenance, which includes upgrades to support new operating system editions, library updates, updates to third-party services, and other duties.
Now, how much do you think will be the cost of the investment app?
Development costs might vary depending on several variables. Comparatively speaking, hiring an in-house development team will cost you more than outsourcing the entire project. The region from where the developer is hired affects the cost of development as well. Outsourcing is typically the favored option because they charge reasonable hourly rates.
Wrapping Up…
All you need is a fresh idea and the proper team of experts to help you realize the potential of your project if you want to develop an investment app and capitalize on a constantly expanding market.
Hope the above pointers help you in building your investment app.
Happy Reading!!