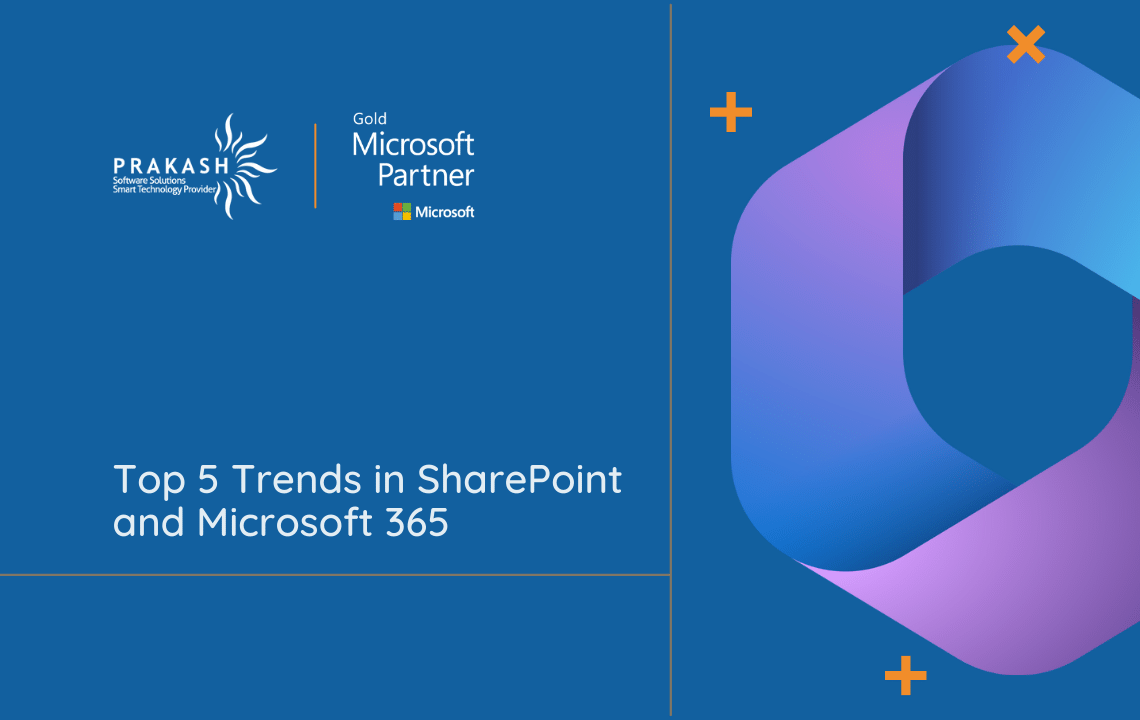 Top 5 Trends in SharePoint and Microsoft 365
Some of the most popular software applications worldwide are Office 365 and SharePoint. These products were created by Microsoft as a connected set of tools to aid in the quicker and more effective completion of tasks in the modern office.
Microsoft SharePoint makes it possible for businesses to share and manage data, apps, and content to:
Promote collaboration

Ensure quick access to information

Integrate teamwork across the whole organization
Let's now look into the top five trends in SharePoint and Microsoft 365.
• Microsoft Viva Connections
Your gateway to a contemporary working environment!Everybody has a customized destination to get the news, conversations, and resources they need to succeed with Viva Connections, a customizable app in Microsoft Teams.For more use a quick guide to set up Viva Connections.
• Microsoft Search
The personalized search experience in Microsoft 365's SharePoint is called Microsoft Search. To display results that are pertinent to you, it draws on insights from the Microsoft Graph. Finding the appropriate version of a document, returning to a presentation you were revising, or accessing a paper you were working on with others are simple chores. This will help you be more productive and work smarter.
Learn more about Microsoft Search for users.
• Power Platform ALM
Software application lifecycle management, which covers development, maintenance, and governance, is referred to as ALM. Software development teams and adjacent departments, such as test and operations, may communicate and work together more effectively thanks to ALM solutions, which offer a standardized system for doing so. The creation and distribution of software can likewise be automated using these techniques.
ALM basics with Microsoft Power Platform
• Power Pages
Microsoft Power Pages is an enterprise-grade SaaS platform with low-code capabilities for creating, hosting, and administering modern external-facing company websites. Whether you're a low-code creative or a seasoned developer, Power Pages enables you to quickly construct, configure, and publish webpages that work seamlessly across web browsers and devices.
Power Pages offers a free trial so you may explore its features and learn how to use it to create your own company web pages.
• SharePoint Modern Site form customizers
By delivering customized code that would execute on the actual SharePoint server environment, changes to a SharePoint environment may be made in older versions of SharePoint. Since the modifications to SharePoint did not fundamentally alter how the product operated but rather customized the current product in a special way, they were referred to as "customizations" and did not necessitate the deployment of custom code.
Learn More
Wrapping Up…
Microsoft still has top-notch foundations upon which to create applications. It's understandable that Microsoft continues to experience rapid growth in the hybrid work sector given. PSSPL is proud to be a reputable Microsoft partner, take part in the larger Microsoft community, and create apps that take advantage of Microsoft 365!
Happy Reading!!