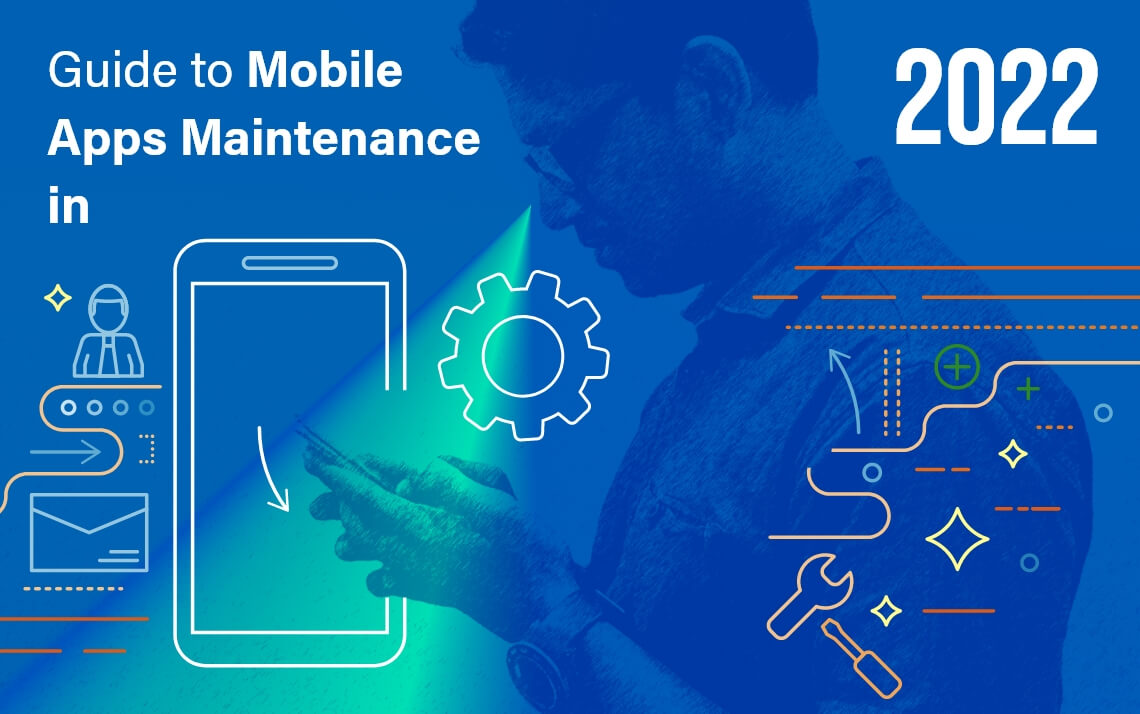 Guide to Mobile App Maintenance in 2022
Do you have your mobile app? Are you worried about mobile app maintenance and looking to learn more about its significance?
If yes, this content is for you. In this blog we aim to target all the important stuff that is needed once you roll-out mobile app. The story beings once the app is out in the market. From solving bugs, improve user experience, and reduce uninstalls, a robust app needs ongoing maintenance. To increase the number of users of your app and keep the ones you already have, you as the business owner must constantly scale it up and improve it.
Now how much do you think will app maintenance cost? This is the most common question that comes to our mind that arises when discussing the investment in app maintenance and scalability. What will be the associated costs? The costs also cover maintaining the software safe and appealing to its users, in addition to keeping it up and operating.
But let us first start with some of the important reasons if you're still unsure why app maintenance ought to be a top priority.
• Regular Updates and Fixing Bugs
Once you roll-out your mobile app and it's published on the app store you should ensure that there is regular bug fixing and it is updated regularly.
Keeping your users happy and engaged with the app it is necessary that concerns should be fixed and they should be able to use all the features and functionalities in your app.
Approaching a reputable mobile application development company is preferable for a routine check and update. The costs associated with bug fixes and updates are often minimal. However, it appears that the cost of app maintenance will rise if there is a significant performance problem or new feature addition.
• Update the UI/UX to Reflect Current Trends
To keep the users engaged, once your app is out you have to take up many steps. As a developer, you might have noticed that the app business undergoes a revolution virtually yearly. Sometimes it involves adding functionality that were previously unachievable or finding innovative ways to improve the appearance of the User Interface. In order to reduce the amount of space that apps take up, you may eventually spot UI/UX components that are not being used in the app and eliminate them. Keeping your UI/UX up-to-date plays a vital role.
• Ensure Protection from Cyber-attacks
It is observed that as the number of mobile apps rises, so do cyber-attacks. It is vital to protect the private information of your app's users to secure the security of your app.
Because hackers are continually looking for weaknesses and coming up with new ways to steal your data and personal information, you might think about app maintenance and upgrading your app with the most recent security measures.
• Long-term ROI Increase
Maintaining and updating your app regularly gives you the opportunity to maximize ROI and lower user acquisition costs. Once your program is live, bugs will undoubtedly crop up periodically. The price of repairing those issues is spread out over a longer period of time by monitoring your app.
If you ignore the above issues, you can run into a technical problem that ends up costing you much more. You may, get rid of a few features that aren't being used by users. Additionally, you may save a ton of money by keeping track of how users interact with your app over time.
How much does maintaining an app cost?
You should adjust your budget accordingly after getting a perfect idea of your app maintenance expenses. It is advisable to speak with a mobile app development iOS app development company.
What elements influence the cost of maintaining an app?
The total cost of mobile app maintenance depends on a number of variables, including bug fixes, updates, hosting, as well as the location of the app development team. In light of the foregoing, the following are some things to consider when estimating the cost of app maintenance:
• Bug Fixes
Any app you look at will have updates available. The price of the upgrades varies and is based on numerous variables. Regular updates can improve the UX and assist in finding and rapidly fixing faults.
Prices are normally based on the type of functional upgrades and the size of the app. You, as the owner of the app, would have to think about the upkeep of such elements.
• Emphasizing Hosting Services
Hosting costs are continuing. Along with the hosting duration, the type of data in your app will be crucial. You should also take into account the server's media support, CPU RAM, additional features offered by the hosting provider, etc.
According to your budget, you should set aside money for application upkeep and support, which will provide you temporary access to the server. Your app must be hosted in order to function.
• Use App Analytics to Monitor Your Traffic
Analytics are crucial for determining the true progress of your application. Therefore, you cannot avoid paying for this program support and maintenance. Additionally, technologies like Google Analytics may assist you identify the area of your application that is expanding the fastest. For services like traffic measurements, average app usage time, traffic sources, user behavior, etc., analytics will require the cost of app maintenance.
• App Marketing
The greatest methods to effectively advertise your app updates include implementing communication and marketing tools including community building, push notifications, and social media interaction. Investing in these marketing tactics is crucial if you want your app to be successful. The success of the app, though, may benefit from these strategies.
• Boosting Customer Satisfaction
Catering to customers complaints and addressing their issues is vital task for every developer. One developer or a team of developers may not always be able to communicate with users directly. Customer Service Representatives (CSR), although it comes at a cost will fill this function necessary to address that issue.
How to Lower the Cost of Maintaining Mobile Applications
Well, here are some strategies for cutting maintenance costs for mobile apps:
Choosing an appropriate mobile application development company that can help you in selecting proper development platform
TeaKeeping up with current development trends
Concentrate on creating an MVP app
Wrapping Up…
Planning out mobile app maintenance is a must if you want to build great app experiences. contact us if you're an app owner and need assistance with budgeting and managing your mobile apps. We are a Microsoft Gold Partner with extensive knowledge of cutting-edge technologies.
Happy Reading!!