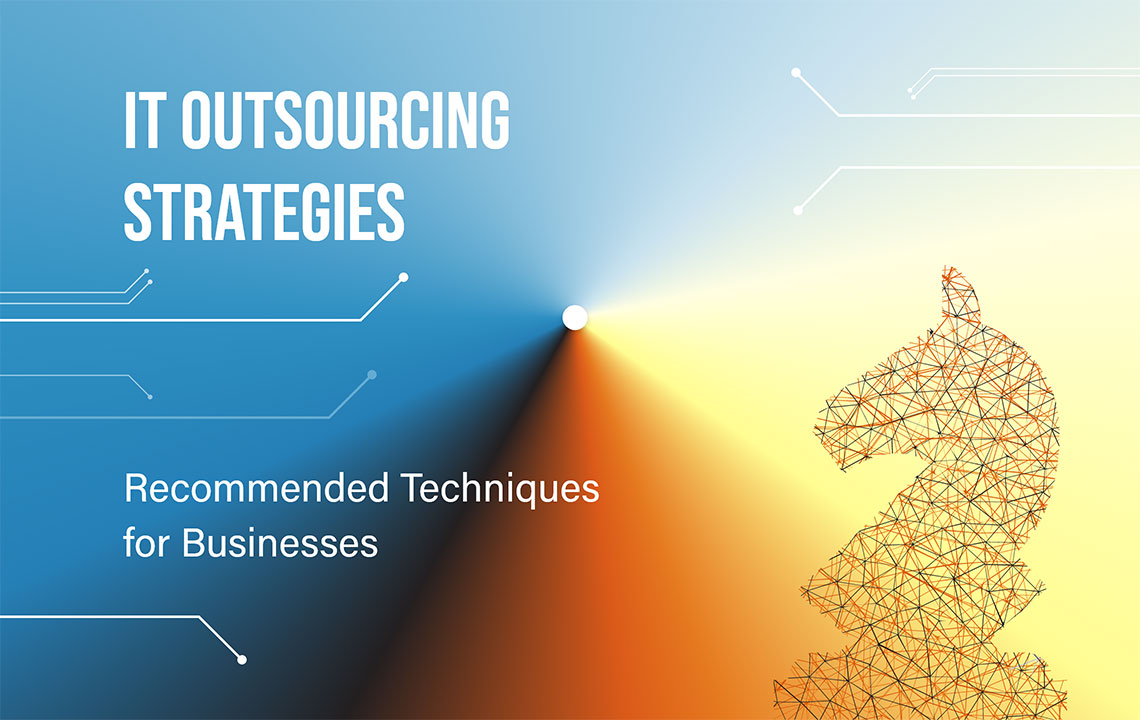 IT Outsourcing Strategies: Recommended Techniques for Business
IT outsourcing refers to businesses letting external service providers handle IT tasks including infrastructure development and support. What are the primary justifications for commercial IT outsourcing? This is so that businesses can have a lively online presence, strengthen relationships with their clients, and guarantee flexibility in scaling to meet client needs. By outsourcing data storage to a third party rather of purchasing it, businesses can reduce costs and save money.
According to Statista, the market for IT outsourcing will reach US $429,291.7 million by 2025 as a result of the IT sector's expansion during the past ten years. With its cutting-edge service offerings, IT outsourcing alters enterprises. Businesses believe they must have a solid IT foundation in order to get a competitive edge and improve team performance.
Which IT service categories are frequently outsourced?
Understanding what IT services can be outsourced is crucial before you begin developing your outsourcing strategies. You'll be able to ask for the appropriate package of services that will help you get the outcomes you want faster. The following are some of the most popular services that are outsourced:
Website or app testing
Application support and maintenance
Database management
Infrastructure management
Data Center management
Data cloud storage
Web security
Web development
Application development
Custom software development
Disaster recovery
Recommended Reading: Five Best Cross-Platform Mobile Development Frameworks
Strategic Outsourcing Benefits :
The corporation can develop a large network of skills connected via outsourcing contracts through external cooperation, from which important operations like the procurement of raw materials, components, and systems can be outsourced.
The business can establish trusting partnerships and collaborate on frequent projects or tasks with outside services. It provides an opportunity for information and experience sharing between the businesses, the development of strong, professional relationships, and the improvement of both teams' managerial and communication abilities.
Additionally, IT outsourcing tactics may provide the following benefits:
• Greater Effectiveness
By hiring seasoned teams that can handle challenging jobs and deliver the best possible solutions for your business, outsourcing increases productivity. Productivity and efficiency rise as a result of their extensive expertise and in-depth knowledge of the industry.
• Resources with Experience and Skill
The time you would have spent finding and training experts for your internal team can be saved by outsourcing. Companies that offer outsourcing services have highly skilled, knowledgeable, and educated professionals who can finish the assignment. Because you don't have to spend years looking for candidates and developing the professionals you need to support your business growth and development, outsourcing is also time-effective.
• Reduced Costs
It is among the most obvious benefits of outsourcing. Being based in the United States or Western Europe while employing teams or single specialists from Asian nations—India being the most popular—is a typical practice. There are businesses that provide their services for less money than US and EU businesses, but they have a track record of doing high-quality work.
• Concentrate on the Job At Hand
At every level of the procedure, outsourcing services will take care of the problem you are experiencing. Although they won't be obliged to complete any project-related work, the CEO and managers of the business will be kept informed. As a result, it gives them the opportunity to work on other vital aspects of the expansion of your business.
• No need to spend money on new technology tools
The whole responsibility for the technologies and infrastructure is assumed by the outsourcing service. They typically already have everything they need to complete your task.
Things to Know About IT Outsourcing Strategies
The success of IT outsourcing strategies depends on coordinated effort and a well-defined business plan, which calls for the participation of multiple departments (legal, HR, operations, etc.). For this strategy, firms typically have just one objective: to acquire the greatest technology at the most affordable price. However, it can result in failure, so it's important to keep the aforementioned advice in mind.
First and foremost, it is crucial to set goals that are understood by your team. Communication is a crucial concern in external outsourcing. Companies should make the requirements, terms, and conditions of the partnership easy to grasp for both sides.
Wrapping Up…IT outsourcing strategies:
As you can see, outsourcing is a very time- and money-efficient choice when it comes to digitization and software development projects. It shouldn't be viewed as a simple route, though.
You should take your time during the planning phase if you want to successfully collaborate with your chosen IT outsourcing strategy partner. You will be able to successfully complete the procedure and gain a number of business benefits if you have a clear and thorough plan in place.
Don't be hesitant to contact us right away for any software development services and to learn more about the subject and how your project or business can start gaining from it. We have a large number of competent experts with relevant experience who can assist you in developing an original solution that will guarantee your long-term success in addition to establishing your IT outsourcing strategies.
Happy Reading!!