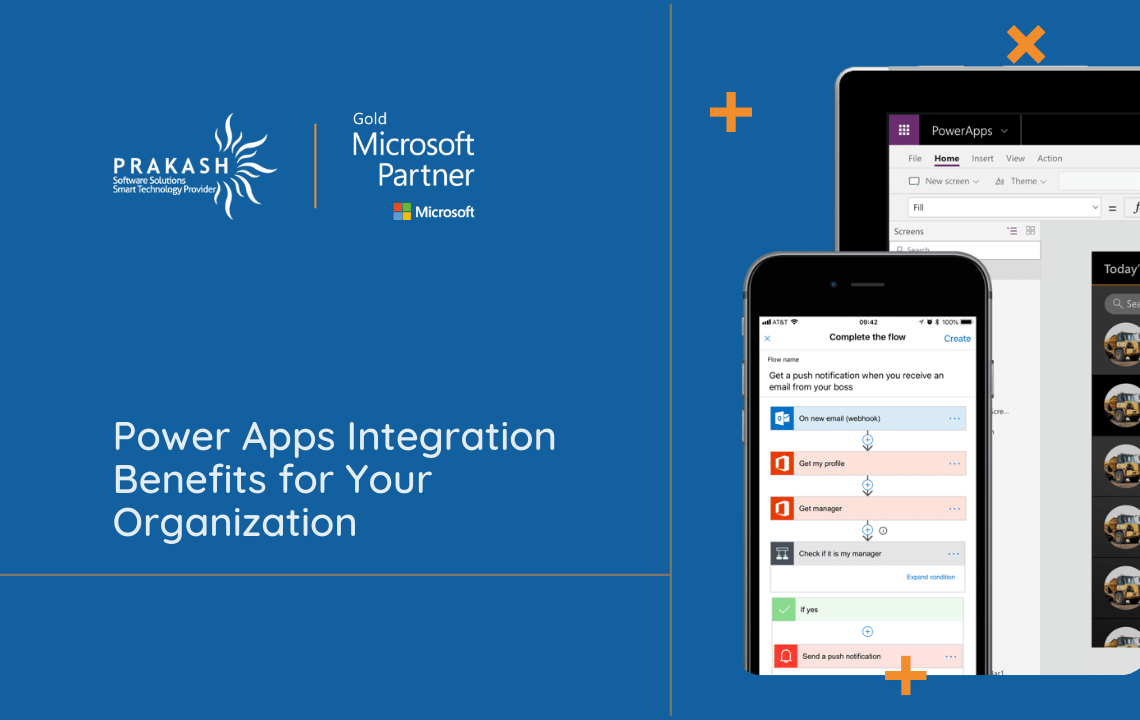 Power Apps Integration Benefits for Your Organization
Although you may have heard of Microsoft Power Apps, you may not be quite aware of what they are or how your company may use them. Let's first begin with:
Microsoft Power Apps: What are they?
Microsoft Power Apps is a low-code, cloud-based development platform that offers a fully loaded environment for quickly and affordably developing and deploying secure, scalable business applications. These bespoke apps can quickly interact with your existing data sources, like Microsoft 365, Dynamics 365, SQL, and others, over the common data service platform to speed up routine business operations. Furthermore, Power Apps can record crucial business procedures to automate user-defined workflows and speed up business processes, allowing you to concentrate on your customers, strategy, and business logic.
• How Power Apps Integration Helps Businesses Overcome Challenges
Using Power Apps to help your business processes has a wide range of advantages. For instance, incorporating Power Apps into your operational procedures can assist you in
Your business operations can be made simpler while operating more effectively
Reduce the number of times you have to complete activities and make sure your business operations are efficient to boost productivity.
You may boost the agility of your business operations by making tasks faster for you.
They can automate gathering data from numerous sources, producing reports that seem professional, and sending emails.
• Boosts Productivity
By incorporating power applications into your workplace, you can give your staff an easy way to control their energy consumption, lower energy expenses, and give them a platform to create productivity apps. Adding power apps to your office has the potential to boost worker efficiency and reduce stress, both of which can improve business performance. This will improve staff productivity and reduce employee stress, both of which will improve business performance.
• Integration with Other Tools
Power Apps integration enables you to link data from other services and dashboards, including Dynamics 365, Dropbox, PowerPoint, OneDrive, PowerPoint, Salesforce, and Excel. Due to the integration's bidirectional nature, Power Apps can be accessed from Office 365 and vice versa.
• Enhanced Security
By removing the need to enter your password to access Power Apps, the Power Apps integration adds an extra degree of protection. You may access the Power Apps account from the network thanks to the integration as well.
• Widely Accessible
Power Apps are widely accessible and come with the Office 365 subscription. You can make apps for numerous platforms thanks to the service's broad availability. As a result, numerous manual processes might be automated and digitalized.
• Cost-effectiveness
Potential cost savings is one of the key advantages of incorporating Power Apps. The functionality of the two platforms can be combined to enable you to create more robust and scalable programs than you could with either platform by itself. By utilizing this interface, you may also access Power Apps tools like the PowerApps Marketplace, where you can search and buy ready-made apps and templates to create your unique apps. This helps you save time and money, allowing you to create apps of higher quality more quickly and affordably.
Summary
The effort to come up with a suitable answer to a problem that they are facing is something that many organizations will be familiar with. In so many cases, a business app would have been the obvious choice, but in the past, they have been expensive to create and time-consuming to distribute. Microsoft recognized this widespread issue and developed Power Apps to help companies quickly and affordably develop solutions that meet all of their requirements.
Hope the above article has helped you to have a better grasp of how Power Apps could benefit your company. If you are looking to leverage the above benefits of the power app platform, contact us.
We can also help you with your SharePoint development services requirements.
Happy Reading!!