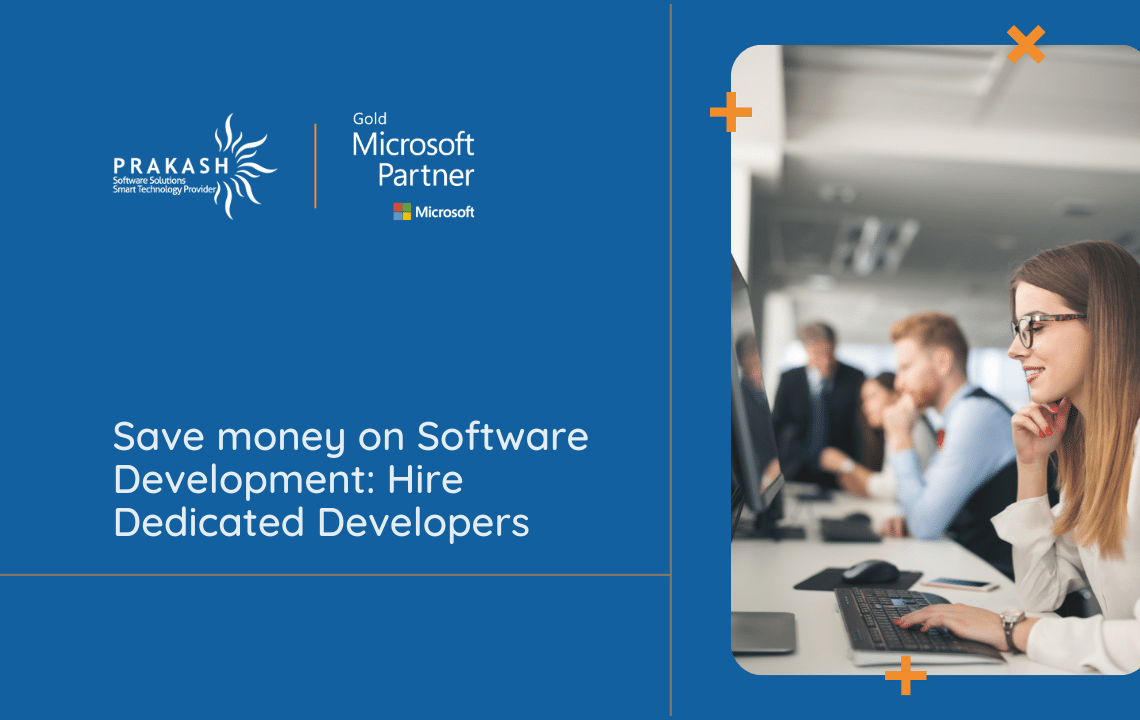 Save money on Software Development: Hire Dedicated Developers
For a startup or business building, a unique solution can be very costly. These exorbitant rates can be crippling, especially for small businesses.
But what if you discovered a way to not only reduce the overall cost of your solution development, but also obtain additional benefits like a greater business focus, access to a diverse range of capabilities, increased flexibility, and so on? Yup, you are thinking right this is possible. Hiring offshore developers to work on your next project is what I'm talking about. You can hire dedicated developers or a complete team without a doubt. This is the most efficient method for lowering software development expenses.
We'll discuss how employing professional web and mobile app developers can save you money on software development in this article. Let's get going.
When should you recruit a team of dedicated developers?
The following are indicators that you should hire dedicated developers for your projects. Let's look at each one in more detail.
Projects with an unclear scope
A corporation is frequently unable to effectively articulate the scope of a project. The project's unclear scope multiplies the time spent on the software development process. Hiring dedicated developers in USA can help in these instances. If your company is based in say Australia, you can easily hire dedicated developers Australia to help you.
Adapt Digital Transformation : Hire Dedicated Developers
Hire dedicated developers USA to scale your development cycle and administer the entire development cycle of your project. We provide hourly and monthly bespoke solutions for your online and mobile application needs with front-end, back-end, and full-stack developers. With PSSPL, hiring offshore developers is just a matter of one click; you may hire a completely dedicated development team from us!
Having difficulty retaining your in-house talent
More than 60% of on-the-job engineers are open to new career choices, according to a StackOverflow survey. In this case, any employer would be unhappy. As a result, it's challenging to keep your software developers. This difficulty can be avoided by engaging offshore developers to oversee the entire development process, resulting in effective teamwork
Technology is being used inefficiently
Software development is a vast field with numerous platforms, contemporary tools, and computer languages. Furthermore, the field of software development continues to grow as cutting-edge technology evolves. You can address this difficulty by hiring dedicated developers since they supply you with a vast pool of developers with knowledge in all recent technologies.
Factors contributing to project delays
Consider the following before discovering how dedicated developers can help you save money on software development. Understanding the factors that contribute to project budget overruns is crucial.
We all recognize the importance of thorough planning and execution in achieving success. Proper planning is one of the most essential factors in minimising software development costs. You must be aware of both your requirements and your financial limits. Planning is critical when it comes to successful management and allocation
No tests will be conducted.
When building a solution, it is vital to test it before releasing it. If you don't test it, you can find yourself in a nasty blame game, which no one wants to watch. Testing is also crucial since it ensures that your software is bug-free and performs smoothly.
To keep the project on track, any tool or equipment on the job site that breaks, is damaged, or malfunctions must be replaced or repaired as soon as feasible. Because these situations are frequently unforeseeable, it is vital to set aside a portion of the budget for them.
One of the most common causes of failure is a breakdown in communication between the client and the developer. Over-communication, under-communication, or micromanagement can all be terrible for your project. In this circumstance, hiring offshore developers is crucial because they are known for keeping strong communication.
When you engage an in-house development team, you might expect a variety of interruptions and delays. The in-house software development team, for example, is working on multiple projects at the same time. As a result, they may pay less attention to your project in order to achieve their other deadlines.
A look at some of the advantages of hiring dedicated developers
Reduce the expense of extra hiring
Make use of technological know-how
Training is free
Pay just for the services that are outsourced
Select the most appropriate project strategy
It is difficult to develop software. However, completing it on time and on budget is more difficult. PSSPL can help you with this. Hiring dedicated developers from us can reap you better ROI. Our programmers are experts in cutting-edge technologies and are known for delivering high-quality results. To get started on your project right away, hire one of our dedicated developers on a part-time, hourly, or full-time basis.