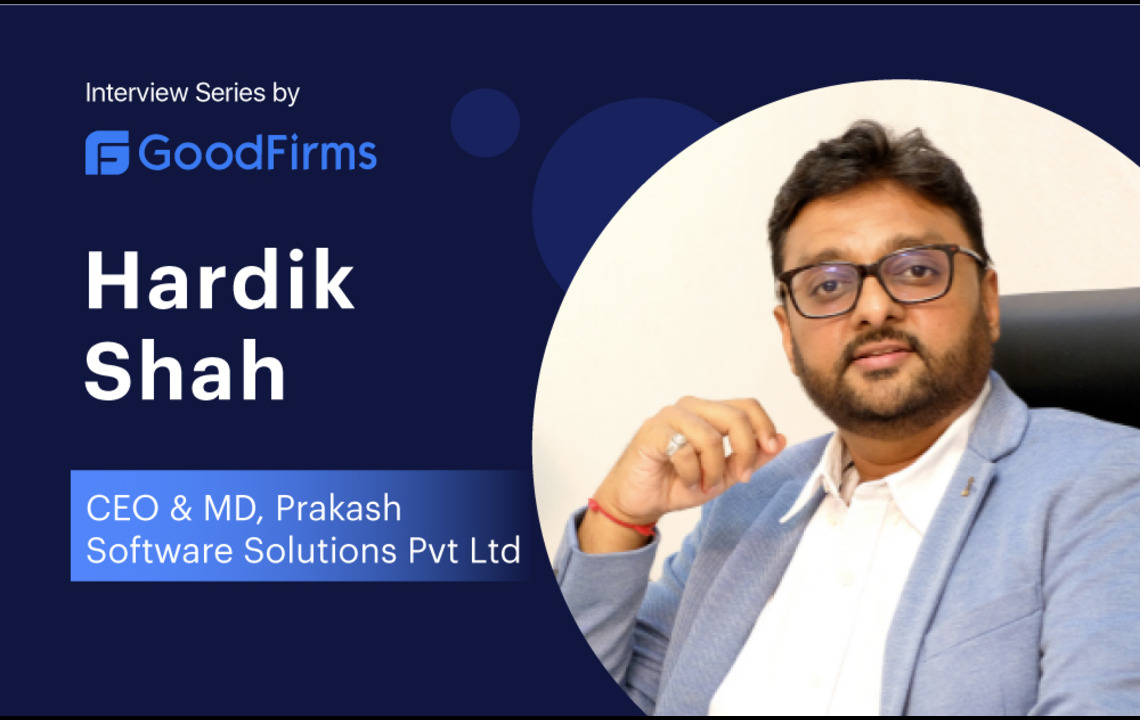 Prakash Software Solutions Pvt Ltd' CEO, Hardik Shah, Shares Insights About his Company's Growth Plans
India-based Prakash Software Solutions Pvt Ltd (PSSPL) is an IT company that delivers top-notch quality and scalable software solutions and products to clients. This software company serves as the logical thinker who drives businesses with solutions to their problems. Moreover, the team of driven software engineers employs logic with aesthetics to deliver workable business solutions in the software industry. 
The experienced and dedicated team of 200 people builds and delivers the right solutions for the clients' business. The company is Microsoft Gold Certified Partner specializing in Net and SharePoint development, including migration, BI (Business Intelligence), Branding, Web Parts, and Workflow. The company has partners across the United States, Europe, and Asia. Interestingly, the company has been in business for 20+ years, so consequently, clients get correct shoring and offshoring solutions. 
The innovative ideology and competent process behind developing a solid software foundation for clients' business has enabled (PSSPL) to soon secure a prominent position among India's top custom software development companies at GoodFirms. 
Team GoodFirms had the opportunity to communicate with the company's Founder, CEO & MD, Hardik Shah, and discuss his service offerings and how he anticipates positioning his company.
While familiarizing PSSPL and presenting a brief about his role within the organization, Mr. Shah stated that Prakash Software Solutions Pvt. Ltd holds one of the well-known names in the IT industry that deliver services in Microsoft 365, Microsoft Dynamics 365, and CRM/ERP, along with services such as digital transformation, SaaS, cloud development and adoption, custom mobile app development, validation and verification, and opulent internet application, to name few. Furthermore, PSSPL emphasizes business application and architectural development that offer robust solutions and help customers in their digital transformation journey.
Mr. Shah further added that he started PSSPL two decades before and has gained great success and accreditations. The passionate team believes in harnessing a culture of digital expertise and innovation for the customers. The skilled team members come from industry-leading talent to enable the clients to stay pertinent and gain the best ROI (Return on Investment).
Furthermore, discussing the story behind starting PSSPL, Mr. Shah confirmed that since childhood, he was inspired by his father and started striving hard towards his goals with full passion and perseverance. Prakash Group worked on Chemicals and Pharmaceuticals that intensely influenced Mr. Shah, who had a zeal to excel in computers and software. He had dreamed of creating his independent individuality with the hard work that enabled him to begin PSSPL. 
When inquired about the company's business model, Mr. Shah mentioned that they possess an in-house team of highly qualified and dedicated employees that work dedicatedly in the organization. 
Mr. Shah also addressed how one can differentiate PSSPL from the competition by claiming that the company holds a strong belief that the "Sky is the Limit, we offer multi-fold range of services traversing web, mobile, and analytics solutions across business domains." The team serves as the rational thinkers who shape next-gen technologies to run businesses and reach their goals. The main target is to achieve customer satisfaction in every work.
Team GoodFirms also enquired Mr. Shah about the industries they generally cater to. The CEO answered that they enjoy working with Travel &Hospitality, Entertainment, FinTech, Education, Security, Logistics, Construction, and Oil & Gas. Most of the clients are recurring, and around 60% of the customers are repetitive. 
Mr. Shah further continued that client mostly approach PSSPL for Microsoft 365, Microsoft Dynamics 365, CRM/ERP, and services like product engineering, SaaS, custom mobile app development, cloud development & adoption, validation & verification, and rich internet application. 
In discussing the customer satisfaction rate, Mr. Shah explained that the team PSSPL believes in quality customer service that acts as an essential parameter in structuring the brand. 
He further added that one of the most critical factors influencing a consumer's degree of trust in a firm is customer service. The company's excellent customer service has urged customers to remain associated with PSSPL. From the starting till the end of the project, the team has always supported customers regarding project requirements. Even after completing the project, if the client needs the customer support service, the team has earnestly helped the client; consequently, customers have always appreciated us. Furthermore, the support team is available round the clock and each weekday to cater to the queries and issues of the clients.
The engagement model of PSSPL hires developers and offers an outstanding level of control to save money and offers full-time, part-time, and hourly hiring with an agile methodology approach. The team employs telephone, chat, and e-mail to communicate with clients. Daily Reports, Jira, Redmine, and Basecamp, are the project trackers of the company. Moreover, PSSPL does not have any maximum or minimum budget requirement and is constantly ready to accept all types of projects and serve clients competently. 
Remarkably, in 2021, the minimum project value the company has worked on was $500, and the maximum was$50,000. 
While concluding the interview, when the Team GoodFirms questioned Mr. Shah about where he sees PSSPL in a decade, he proudly expressed that his company wishes to win the Microsoft Most Valuable Professional (MVP) award, and to achieve this desire, our team is devotedly toiling hard in the same direction. He added that Microsoft presents this award to "technology experts who passionately share their knowledge with the community."
You can go through the entire interview of Prakash Software Solutions Pvt. Ltd.'s CEO, Mr. Hardik Shah, on the GoodFirms website.
About GoodFirms
Washington, D.C.-based GoodFirms is an innovative B2B Research and Reviews Company that extensively combes the market to find business services agencies amongst many other technology firms that offer the best services to their customers. GoodFirms' extensive research process ranks the companies, boosts their online reputation, and helps service seekers pick the right technology partner that meets their business needs.
About the Author
Working as a Content Writer at GoodFirms, Anna Stark bridges the gap between service seekers and service providers. Anna's dominant role is to figure out company achievements and critical attributes and put them into words. She strongly believes in the charm of words and leverages new approaches that work, including new concepts that enhance the firm's identity.