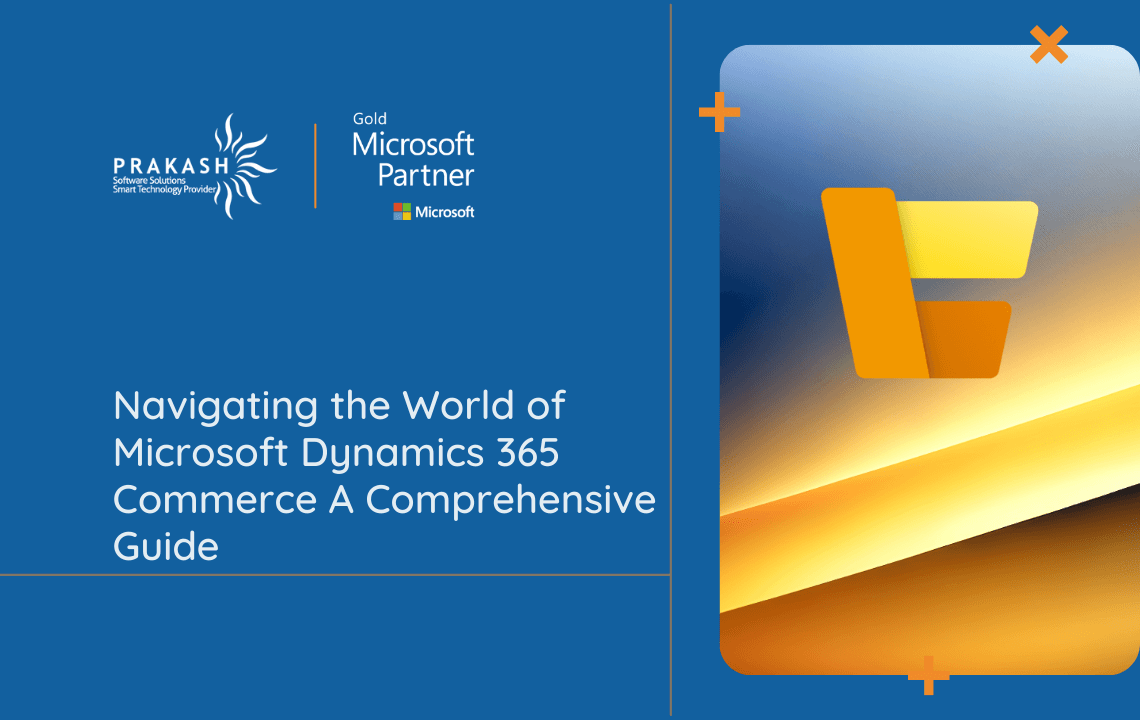 Navigating the World of Microsoft Dynamics 365 Commerce A Comprehensive Guide
In the rapidly evolving realm of e-commerce, where shifts occur at lightning speed, businesses are constantly in pursuit of a competitive advantage. Microsoft Dynamics 365 Commerce has emerged as a potent tool for this purpose.
This blog post is your complete guide to Microsoft Dynamics 365 Commerce, from basics to deployment, advantages, and key considerations. Our goal is to empower businesses with insights for informed decisions on adopting Microsoft Dynamics 365 Commerce.
With a primary focus on providing valuable insights, we aim to equip businesses with the knowledge necessary to make informed decisions about adopting Microsoft Dynamics 365 Commerce.
Microsoft Dynamics 365 Commerce
To understand the power of Dynamics 365 Commerce, let's start with the essentials. Dynamics 365 Commerce is a complete Omni-channel e-commerce solution that seamlessly integrates with Microsoft's suite of business applications.
It encompasses inventory management, customer insights, online store management, order fulfillment, and marketing automation, offering a wide array of functionalities.
One notable feature of MS Dynamics 365 Commerce is its ability to provide a unified view of customer data and interactions across online stores, physical stores, and mobile apps. This integrated approach empowers businesses to deliver consistent and personalized experiences to customers, fostering brand loyalty and customer satisfaction.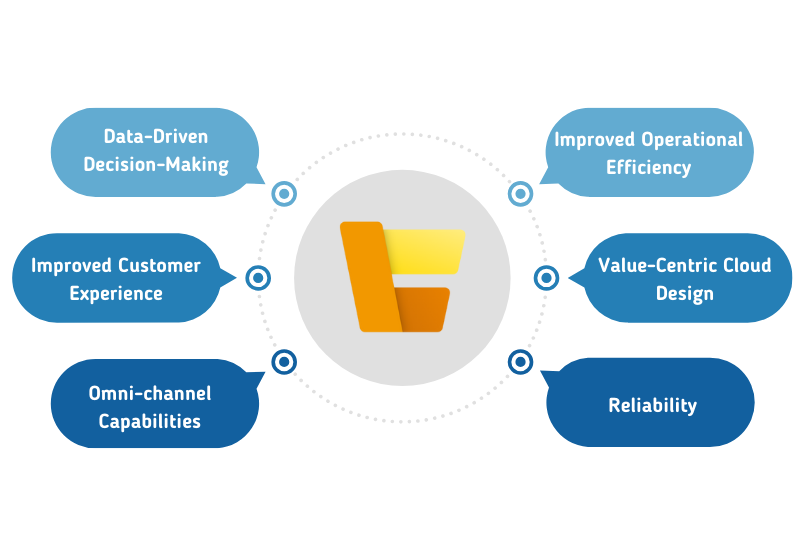 Why Should Businesses Deploy Dynamics 365 Commerce?
Now, let's delve into why Dynamics 365 Commerce is a game-changer:
Data-Driven Decision-Making: Microsoft Dynamics 365 Commerce empowers businesses with built-in analytics and reporting tools for data-driven decision-making. These insights are instrumental in optimizing marketing campaigns, product assortments, and inventory management.
Enhanced Customer Experience: Opting for Dynamics 365 Commerce helps businesses provide a seamless and personalized shopping experience to their customers. Ultimately, this leads to improved customer satisfaction and heightened brand loyalty.
Omni-channel Capabilities: In today's market, customers expect the flexibility to shop across multiple channels effortlessly. Microsoft Dynamics 365 Commerce enables businesses to offer a true omnichannel experience. It allows customers to browse, purchase, and return products across various touchpoints.
Improved Operational Efficiency: The platform streamlines various business processes, from order management to inventory control, reducing manual efforts and errors. This efficiency translates into cost savings and better resource utilization.
Value-Centric Cloud Design: Microsoft Dynamics 365 Commerce's cloud-based design facilitates rapid implementation while alleviating investment concerns. Microsoft promptly delivers regular updates, granting businesses access to the latest features and functionalities. With a streamlined deployment process, businesses can operate at a pace that minimizes downtime and maximizes productivity.
Reliability: In the realm of commercial preferences, established and trusted brands often hold sway over unfamiliar ones. In this context, Dynamics 365 Commerce shoulders a significant responsibility, being developed by Microsoft—a brand with decades of expertise. Partnering with the best Microsoft Dynamics 365 Consulting Services provider assures businesses of higher level of quality, trust, and reliability.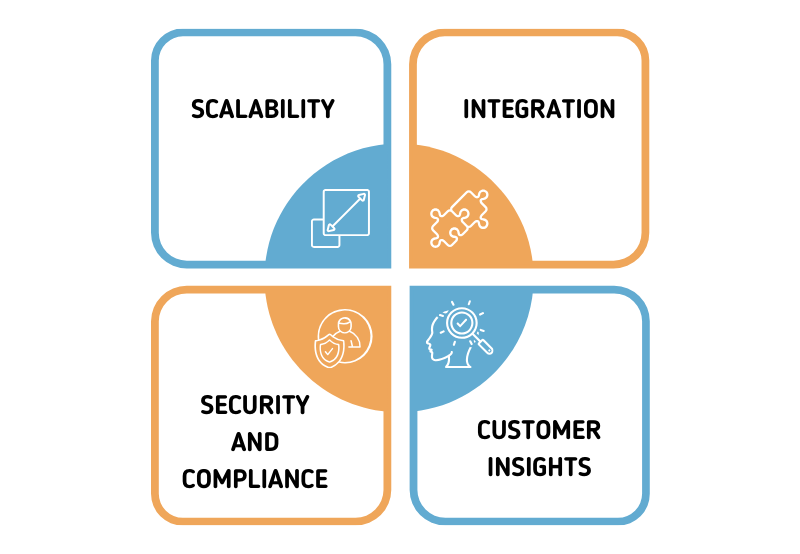 Scalability: Dynamics 365 Commerce scales seamlessly from small businesses to large enterprises, adapting and growing with your needs.
Integration: It integrates smoothly with Microsoft apps like Dynamics 365 Customer Insights and Finance and Operations. This promotes unified data visibility and departmental collaboration.
Security and Compliance: Dynamics 365 Commerce prioritizes security and compliance, safeguarding data and meeting regulatory standards.
Customer Insights: With built-in AI, Dynamics 365 Commerce offers insights for personalized marketing, product recommendations, and pricing based on customer preferences.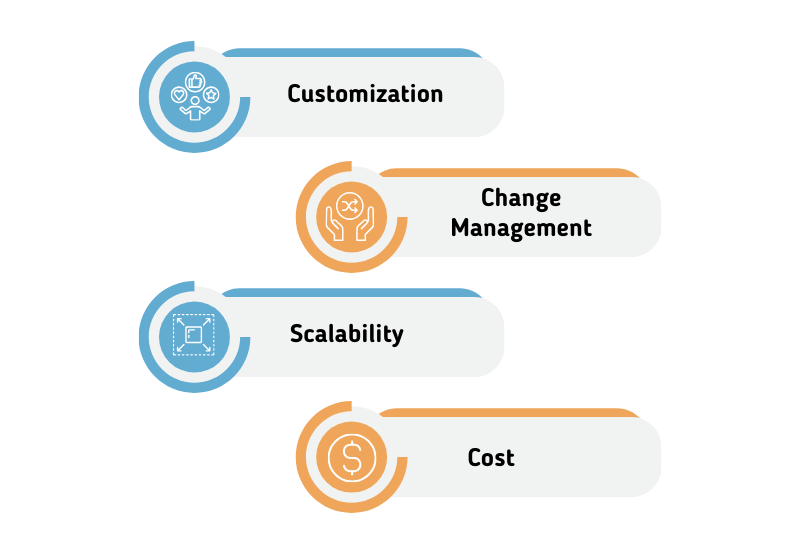 Important Considerations Before Investing in Dynamics 365 Commerce
Before embarking on this transformative journey, let's pause and consider some vital factors:
Customization: Evaluate your business needs and assess customization potential. Customization can impact timelines and costs in the implementation process.
Change Management: Implementing a new system often requires changes in processes and workflows. Ensure your organization is prepared for these changes and invest in adequate training and support for your team.
Scalability: As your business grows, your e-commerce platform should grow with it. Ensure that Dynamics 365 Commerce can adapt to your evolving needs without significant disruptions.
Cost: Consider total cost of ownership, encompassing licensing, implementation, and ongoing maintenance, despite Dynamics 365 Commerce's benefits. Ensure that the investment aligns with your budget and expected ROI.
Wrapping Up
Microsoft Dynamics 365 Commerce is a robust e-commerce solution that equips businesses with the necessary tools to excel in the digital era. This guide has presented an all-encompassing view of Microsoft Dynamics 365 Commerce, spanning its core attributes, advantages, and vital considerations before implementation. In an era where organizations emphasize customer experience and operational efficiency, this platform emerges as a versatile and flexible solution suitable for businesses across the spectrum of sizes.
For businesses seeking to maximize their potential with Dynamics 365 Commerce, it's essential to recognize the benefits it offers and be mindful of potential challenges. By doing so, they can make informed decisions to fully leverage this platform and foster growth in today's fiercely competitive market.
If you require expert guidance and support in implementing Microsoft Dynamics 365 Commerce, consider seeking out Microsoft Dynamics 365 consulting services. These services can provide invaluable insights and assistance tailored to your specific business needs, ensuring a smooth and successful adoption of this powerful e-commerce solution.
Happy Reading!