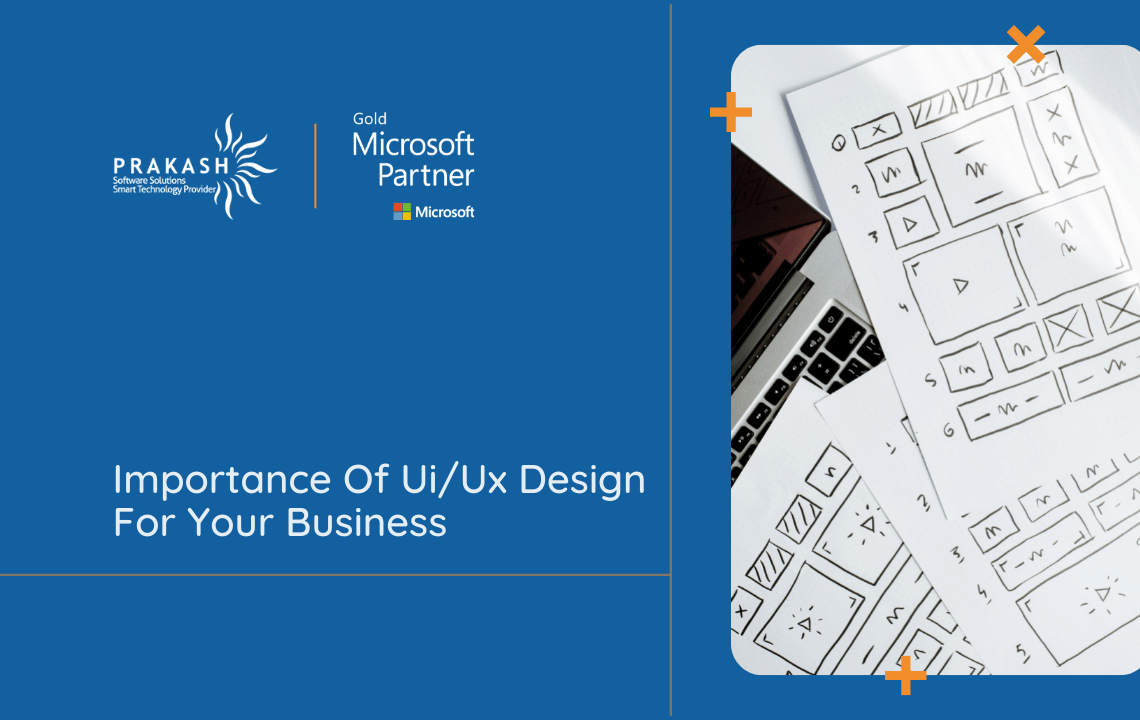 Importance Of UI/UX Design For Your Business
Business applications are just as good as the user interface they offer, therefore learning how to design a user-friendly interface will help your company in many ways.
That's why we've written this blog post about how crucial UI/UX design is for businesses, repleting with information on how to prevent these errors and some suggestions for the kinds of tactics you should use when creating a UI/UX.
What significance does UI/UX have for any business?
Even the most reliable business systems can be doomed by the effects of a poor user interface and user experience. Over time, it makes a great difference how quickly a user interacts with a product, how simple it is to use, and how much work is required to learn how to use it. Users won't use your apps if they don't believe they are simple enough to use.
What qualities distinguish "excellent" UI/UX design?
A strong UI/UX design will look fantastic and be quick to use, but you need also think about how quickly interactions happen, how simple the navigation is, and how intuitive the design is. The first point will assist you in determining whether or not a design is effective, even though the following two criteria are obviously connected and can be challenging to assess from a single screenshot.
Like everything else, a skilled UI/UX designer can make this far more user-friendly. You'll be able to complete your designs considerably more rapidly when working with someone who is knowledgeable about design principles and who is compensated for their skills in producing something that is useful for business (as opposed to something for their personal portfolio).
What are some possible UI/UX design flaws?
While an excellent user interface ensures that your users have a simple time using your programmes, a poor interface design can lead to confusion, frustration, and even cost you money in the long run. You may also notice that they don't stay as long as they would with something more intuitive. According to expert designers, new products with poor UI/UX are less likely to succeed than those built from the ground up with solid UI/UX principles. A few of the most frequent problems people have been as follows:
• Poor Usability
When your programmes are highly challenging to use or navigate correctly, you have poor usability. This frequently occurs when something is overly intricate, but it can also occur when something is improperly organised.
• Poor navigation
Whether an app is overly sophisticated or simply occupies too much screen space, it frequently has navigational issues. When navigating seems to be taking longer than it should, people tend to give up. This is something that a better user-friendly product will enable users to accomplish much more quickly and with less effort.
• Keep away from making your own colour scheme.
It's recommended to stick with an existing colour scheme or find the right match using free tools like Adobe Color CC or Coolors.com unless you're willing to invest a lot of time in trying alternative colour combinations. The greatest course of action is frequently to stick with a tried-and-true scheme because it will look nice and uniform throughout the entire design. Being original is worthwhile if you're ready to put some effort into the process.
• Keep it Simple
When developing UI/UX designs, simplicity should be a top priority, as it is in other business-related endeavours. Remember that consumers are less visually focused than they are while reading written material, and they will frequently leave if something isn't quite right.
• Avoid assuming all your users will have the same needs.
When it comes to UI/UX design, users from various cultures, backgrounds, and even generations will have varied wants and demands. Because of how these variations will affect the average user, each person will have a different experience, which is one of the reasons you should be flexible with your design.
Summing it up: UI/UX design
Although there are many factors to consider when developing a UI/UX for a website or application, it's crucial to keep in mind that there are some basic guidelines you can adhere to in order to produce a successful design. By following these guidelines, you can design anything that is compatible with mobile devices or that performs as most users would anticipate.
If you adhere to these rules, you'll have a strong foundation on which to develop.
Prakash Software Solutions can assist you by developing UI/UX designs specifically suited to your requirements, and we also have experience converting PSD to HTML5!
For your upcoming project, get in touch with us right away. We've worked on some amazing projects with clients from throughout the world.